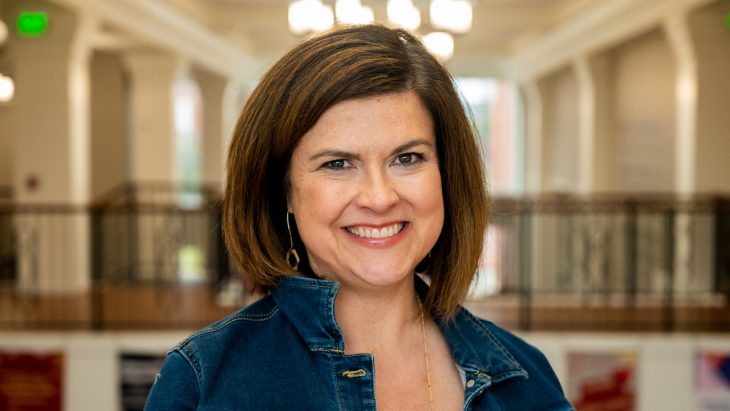 Ashley Tackett has built her career around helping students succeed. As a former K-5 teacher with 22 years in the classroom, Tackett's previous roles as an interventionist and a special education instructor have prepared her for her newest position as Transylvania University's disability services coordinator.
Her prior professional experience has given Tackett a thorough understanding of the nuances necessary to translate accommodations that a student may have received in high school under a 504 or IEP plan to the college level. Her teaching experience also gives her a deeper understanding of what students may have experienced educationally prior to their arrival on campus.
Tackett sees difficulty with time management and poor study skills as two of the greatest academic challenges facing today's college students. "For the first time [in college], you don't have a teacher sitting over you, and you don't have to be in one location for a set amount of time," she said. "Moving to that independence can be difficult."
In her new role, Tackett serves as the first point of contact for students who are seeking help transitioning to college and are unaware of the resources available to them. She can connect students who are struggling in their classes to tutoring services or coach them in developing good study skills.
If a student faces physical barriers, she works with facilities to ensure that the campus is accessible for their needs, and she reviews the paperwork for emotional support animal requests and connects students who request mental health counseling to the Wellness Center.
Tackett's goal is to remove any perceived stigma from the disability services office. "I want it to be more about accessibility, about leveling the playing field for all students so that they can access the curriculum," she said, adding that she hopes to partner with the university's faculty and staff as well as with students in order to create a more inclusive environment for those with learning differences.
Faculty, staff and students who wish to connect with Tackett can find her in her office, located on the lower level of the J. Douglas Gay Jr./Frances Carrick Thomas Library.
Outside of the office, Tackett enjoys refinishing furniture, baking, traveling and spending time outdoors and with her family.