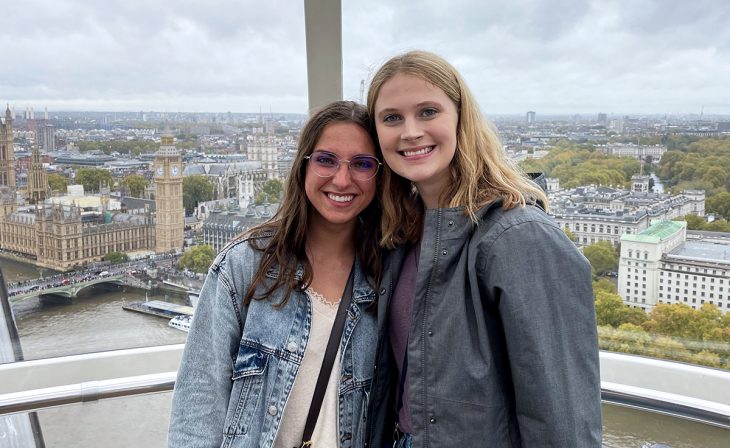 ---
This guest post is by Transylvania University student Samantha Sadler (right), who is studying this term in England. She's pictured with fellow senior Anna Kelly.
---
When I decided to come to Transylvania four years ago, I was excited about so many things, but one of the things I was most looking forward to was studying abroad at some point.
However, during the spring semester of my first year, the COVID-19 pandemic really stopped those plans for about two-and-a-half years. As COVID has slowly become a new normal in our lives, we have started to adapt and figure out how to go back to the way things were before. Finally, during my first semester of my senior year, I am able to study abroad.
This summer, I was fortunate enough to to participate in the KIIS Netherlands trip with professor Steve Hess, and while I learned a lot of new and important things on that trip, nothing prepared me for what it would be like to go to another country by myself for a long period of time.
I was fortunate that I didn't have a language barrier to deal with in London; however, the sheer size of this city is something that I have never experienced before, and adapting to both the city and the differences between teaching styles at American and British universities was quite difficult. Once I figured it out, though, I felt like I could do anything. I am no longer anxious about figuring out public transit, and I have a lot more confidence traveling to other places as well. One of the best experiences of my trip so far has been meeting up with the other study abroad students from Transy in other countries because we are experiencing different cultures from what we would at home — and it's a cool thing to reflect and share with your friends.
While there were a lot of places where I potentially wanted to spend my semester abroad, ultimately, London seemed like the best fit for me. England is the backdrop of so much I have read about in class for years now (I'm an English major), and I wanted to go and be able to see those places for myself.
I'm currently in Shakespeare and London's Literature classes here and it's really cool to be able to take classes that correspond directly to the place where you are studying. Additionally, Regent's University London, where I'm studying, has the largest amount of study abroad students anywhere in the U.K. (75% of the students reside outside of the country). Because of this, I have had the opportunity to become friends with people from other cultures and areas of the world, and I have been able to broaden my perspective and have a better understanding of the world through learning about how other people live.
Ultimately, if you have the opportunity, I think everyone should study abroad. It broadens your perspective in ways that you can't imagine unless you leave the country, and it has forced me to become more independent. Being across the ocean from my family has forced me to really focus and figure things out in a way that I wouldn't have been forced to do if I was at home. While I only have one month left before I head back to finish my last term at Transy, I have only just started traveling, and I have gained knowledge and so many memories that will last me a lifetime.