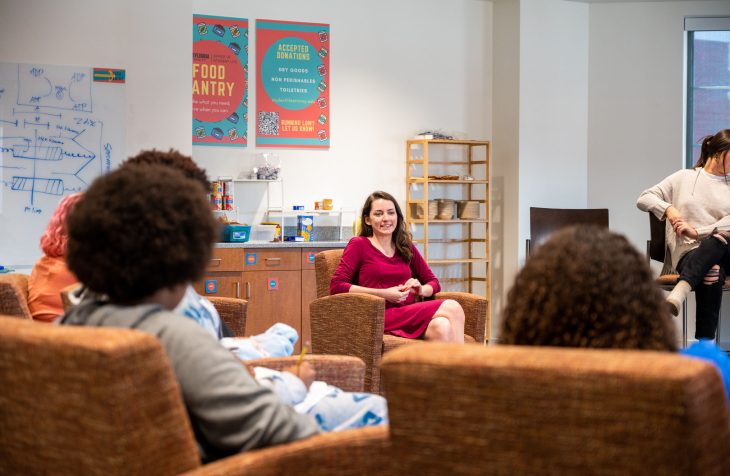 As part of Transylvania's Creative Intelligence series event "The Stories and Myths of American Youth: Conversations with Authors of Young Adult Literature," local middle and high school students visited campus last week for an opportunity to engage directly with Kentucky young adult fiction authors alongside Transylvania undergraduates.
Transylvania's education program has enjoyed a long and fruitful partnership with Fayette County Public Schools, currently partnering with Frederick Douglass High School and James Lane Allen Elementary. With Lexington Traditional Magnet School and Sayre both within walking distance of campus, opportunities are rife for collaboration between the university and local K-12 schools.
"The Stories and Myths of American Youth" was initially conceived as a component of two Transylvania courses: Literature for Young Adults and Young Adolescents: Preparing to Teach in the Middle Level.
"We think it's important for pre-service teachers to experience a range of diverse field experiences, but equally essential is finding opportunities for our education and social change majors and minors to be involved in community, school-related learning experiences," said Amy Maupin, associate professor of education.
The event's featured authors included David Arnold ("Mosquitoland"), Heather Henson ("Wrecked"), Kaitlyn Hill '16 ("Love from Scratch") and Mariama J. Lockington ("For Black Girls Like Me"). After a brief welcome session, the group divided into four book talks led by each author.
This intimate setting provided the opportunity for teachers and students to engage in direct conversation with the writers about their novels, as well as learn more about each author's unique writing processes and how their personal experiences have shaped their fiction.
"Our students study literature and writing but having the ability to listen to authors describe their processes, with all its frustrations and success, was invaluable," said Julie Adler '05, language arts department chair at LTMS. "This real-world explanation of the skills that we impart in the classroom was an unparalleled educational experience."
Incorporating K-12 students into the book groups also had a positive impact on the undergraduate participants, allowing them to hear younger readers' responses to the literature. "It's not enough to read about culturally responsive teaching or education policies that affect the day-to-day lives of teachers and students," Maupin said. "We need to be in community with educators and their students. We need to listen to them. We need to learn from them."