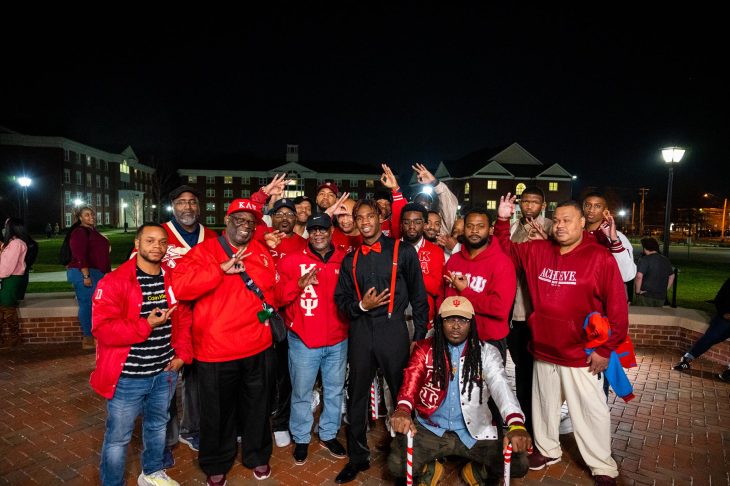 On an otherwise quiet Wednesday evening, a crowd gathered on the back patio of the William T. Young Campus Center. Among the Greek letters usually seen on campus were those from the "Divine Nine," member organizations of the National Pan-Hellenic Council representing historically Black fraternities and sororities.
A lone student, wearing a ceremonial red mask, walked out at 7:11 p.m. in front of dozens of NPHC members and the Transylvania community. Over the next few minutes, Chris Bryant '25 participated in a presentation ceremony marking his initiation into Kappa Alpha Psi, the first historically Black fraternity to formally recruit at Transylvania.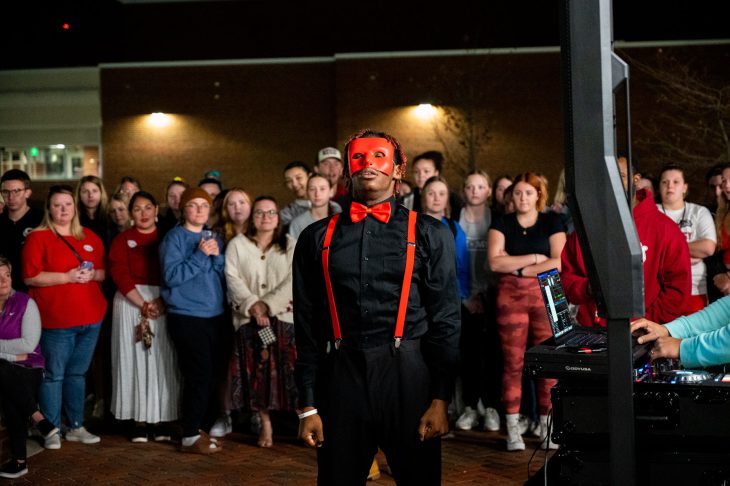 The arrival of Kappa Alpha Psi on Transy's campus is the result of a collaboration between the offices of Diversity, Equity and Inclusion and Student Life, as well as a growing partnership with the NPHC community in Lexington. Earlier this year in April, members of each of the Divine Nine organizations met with students at Transy interested in learning more about their organizations.
Following the information session, students indicated their interest in bringing Kappa Alpha Psi and one of the women's organizations to campus for formal recruitment. (Discussions with the women's organization are ongoing with recruitment anticipated for next spring.)
"This is very important and special to me and the fraternity to be a pioneer here at Transylvania," said Prenell Mitchell, the polemarch of the Lexington alumni chapter. "We look forward to a long relationship with this great university."
Bryant is from Gardendale, Alabama and plays baseball at Transy. He already sees the benefit that involvement with his fraternity will bring, calling it a lifelong brotherhood. "After college, you can join a graduate chapter and continue to be active in the fraternity," he said. "You can continue the public service work that you started during your undergraduate years. You'll also find strong cooperation between graduate and undergraduate chapters meant to build community."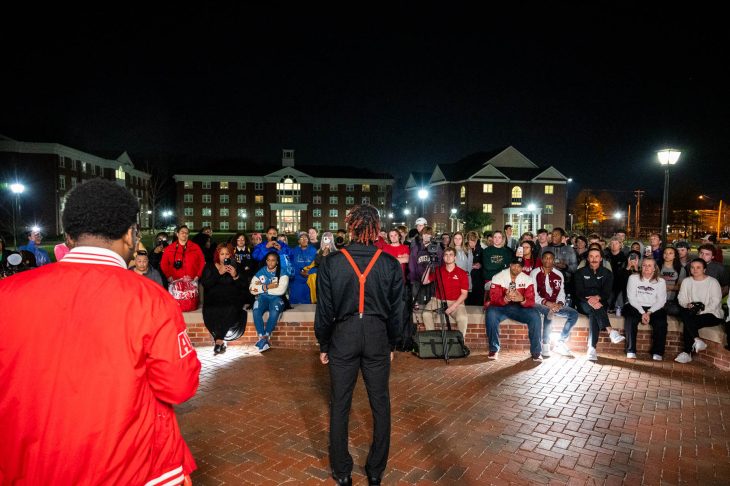 Bryant has high hopes that the addition of Kappa Alpha Psi and a soon-to-come NPHC sorority will bring more inclusiveness and diversity to Transylvania. "The faculty and staff are doing a marvelous job implementing diversity here at Transy, and bringing D9 fraternities and sororities is a great addition to these efforts," he said.
Deidra Dennie, Transy's vice president for diversity, equity and inclusion, said, "Being a member of a historically Black Greek organization is a unique experience and one I want to share with others on our campus. I think this is an occasion for Transy to welcome a special Black experience on campus that was missing for students. This is a unity opportunity for students, a bonding experience, a choice to grow richer in the understanding of Black culture in America."
Candy Rivera Evans, assistant director of campus and community engagement, said students have been asking for NPHC representation. "We now have the student demographics that encourage expansion into new organizations that more students can see themselves in and become a part of our fraternity and sorority community." Rivera Evans oversees the campus fraternity and sorority organizations.
"I hope the members of the new organizations at Transy understand that they are joining a much bigger community than just their new chapter, that they have fraternal brothers and sisters in all chapters who will support, encourage and challenge them to be their very best selves," Rivera Evans added.