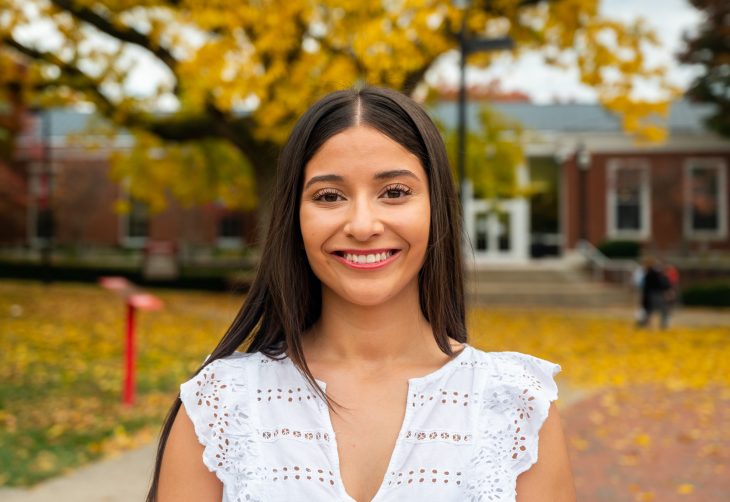 Lali Lucero always knew that she would go to college. The Paris, Kentucky, native and Transylvania University senior was academically driven from a young age, thanks in large part to her parents' emphasis on education. Growing up, she attended Catholic schools and was highly motivated to earn her college degree, but she was unsure if Transy was the right place for her.
"I was dead set against Transy because my sister [Jocelyn Lucero '19] came here," Lucero said. "I applied to a lot of out-of-state schools and got accepted to them, but what it really came down to was the tour."
On her campus tour, Lucero fell in love with the close-knit community. "I have always been a small-school kind of girl, and the professor-to-student ratio was a big deal to me," she said. "I wanted to develop those relationships and be able to have professors who cared." The encouragement and persuasion of her admissions counselor also helped to seal the deal.
Lucero's parents were thrilled to have their daughter nearby. Despite not having the opportunity to receive a college education themselves, "my parents have always been my biggest supporters and motivators," she said. "They know how much work I have put into my studies, and they love Transy," she laughingly added, remarking that they have all of the Transy stickers and shirts.
Jocelyn's academic success was also instrumental in Lucero's journey to a college degree. "My sister was the biggest role model for me. Growing up, I didn't see lots of people who looked like me, so seeing her ability to make it to college was the biggest influence," she said, adding, "I could see myself in her."
After arriving on campus, Lucero quickly became involved in campus activities to build her network. "The biggest challenge was trying to fit myself into the Transy community and find people to connect with who understood my struggles," she said, noting that many first-generation students experience imposter syndrome.
Lucero worked to find a healthy balance between acknowledging the work she had done to get to college and learning to ask for help when needed. "Don't be afraid to ask for help, especially not in fear of judgment," she said. "Everyone at Transy is so willing to help you, which helped me step out of my comfort zone and get more involved in the community."
Now in her senior year, Lucero is president of the Tri Delta sorority, a member of the Student Activities Board, a former member of the Student Government Association and has served as a First Engagements scholar since the 2021-22 academic year. She credits her heavy campus involvement with helping her to develop strong leadership skills.
"Transy has helped me grow so much as a person," she said. "It's made me more aware of how I can use my strengths to help other people in the community." Lucero, who is bilingual, was able to volunteer as a translator at local vaccine clinics during the COVID-19 pandemic. "Any way you can make other people's lives easier, that's a good thing to do," she said.
When asked about people at Transy who have made her life easier, Lucero immediately referenced Michelle Thompson, director of campus and community engagement. Thompson "has helped me grow as a person and has always encouraged me to develop as a leader," Lucero said. "She knows my background as a first-generation student and a Latina woman. She's written recommendation letters for me and gives me advice. She's really fostered that support and encouragement that you just need sometimes."
Lucero also noted that many of her professors have also been part of her support system. "It can be hard to balance education with other commitments," she said, but she recommended that students "put in the effort and foster relationships with your professors. They have so much help to offer, and they really want to talk to the students."
Lucero credits her success at Transy to the willingness to persevere and her faith in herself. "Even if you have a lot of obstacles set against you, you can get through it," she said. She reminds other first-generation students to keep their eyes on the prize, noting that it's normal to have self-doubt and feel some level of familial guilt. "Make sure that you have the confidence to continue that journey and fulfill your goals," she advised. "Don't let outside influences deter you while you are trying to get through these four years of college."
The perseverance Lucero has developed during her time at Transy will serve her well in her future academic endeavors — a double major in biology and psychology, she plans to attend medical school after taking a gap year and will take the MCAT in June 2023.
Lucero always considered medicine as a career, but the classes she took and the people she met at Transy solidified her decision. "Getting the chance to talk to people through activities, clubs and classes exposes you to so many different opinions and ideas," she said. "College has made me very thankful for the way my parents pushed me to go and get my education. It's made me more grateful to have an education."