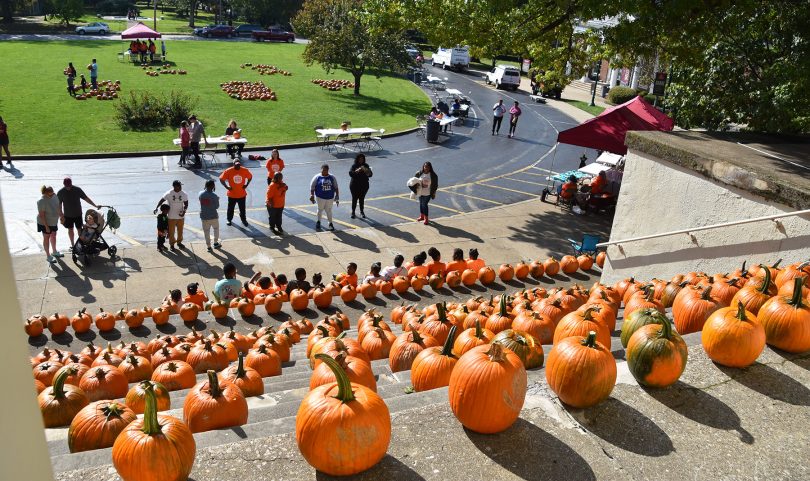 When this year's PumpkinMania Festival presented by White, Greer & Maggard Orthodontics returns to Transylvania's campus Sunday, there will be plenty of things to do besides jack-o'-lantern carving.
More than a dozen student and community groups are hosting crafts and activities for festival visitors, including coloring, face painting, jack-o'-lantern golf, pumpkin bowling and a softball toss.
Food vendors include Bella's Mini Donuts, C&J Foodbar, Mr. Gyros, Nathan's Taqueria, Three Little Piggies Ice Cream, The Rooster's Whistle coffee and West Sixth Brewing.
The 12th annual event will also feature pumpkin carving for the display on the Old Morrison steps between 11 a.m. and 4 p.m. The 500 jack-o'-lanterns will be lit each night from Oct. 23-27 for public viewing. While tickets to reserve a pumpkin for carving are sold out, any pumpkins not claimed after the reservation time will be made available to those who weren't able to sign up. (You can also BYOP – bring your own carved pumpkin to add to the display.)
Visitors can also sign up for a PumpkMania Festival raffle ticket, which enters you into our raffle for a grab bag of PumpkinMania fun stuff! This ticket will not reserve a pumpkin for carving. A ticket is not required to just attend the event, but by reserving one your name will be entered in the drawing.
For this year's display, Transylvania is once again sourcing pumpkins from Black Soil, an organization connecting Black Kentucky farmers with their agricultural heritage and expanding the market for their products.
Most of the pumpkins will be collected Oct. 28 by local farmers, who'll use them for animal feed. Some of the carved gourds will make their way to McConnell Springs for Lexington's Jack-o'-lantern Trail. While this means the display won't be up through Halloween this year, recycling the pumpkins before they're unusable is in line with the university's commitment to sustainability.
In addition to White, Greer & Maggard Orthodontics and Black Soil, this year's PumpkinMania sponsors include BimGroup, Alpha Financial Partners, Becker Law Office and Commonwealth Credit Union.