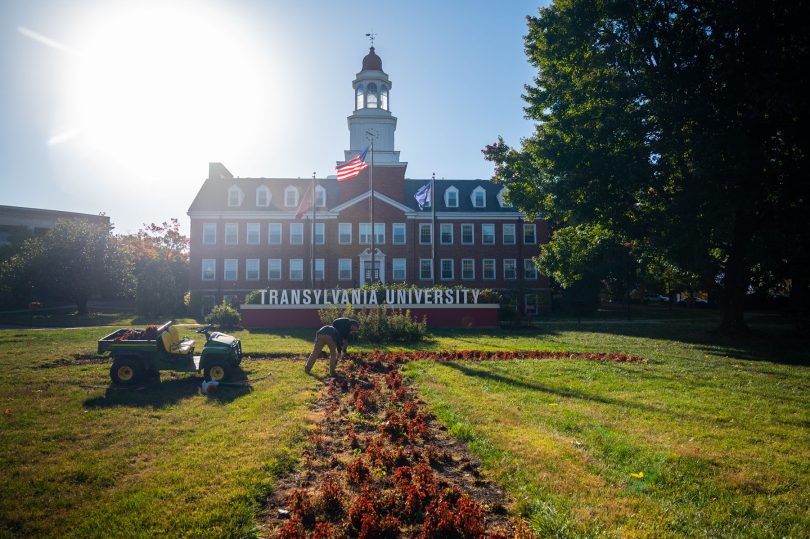 The frost and freezing temperatures have taken their seasonal toll on the begonias in Transylvania's iconic T-shaped flower bed. As grounds crews remove the spent flowers this fall, they are also preparing for a transition that will last into the future.
In the next few weeks, Transy's facilities management grounds crew will not only till the area in and around the Transy T, but they will install sod in Carpenter Circle, covering the area planted each spring.
"We are taking the first steps to prepare for the design and installation of a permanent landscape feature — a sustainable, easy-to-maintain Transy T," said President Brien Lewis. 
The large floral T has graced Transylvania's front lawn facing North Broadway since 1983, with a variety of flowers used over the years, including salvia and, most recently, begonias. Keeping the flowers watered as necessary while also managing encroaching grass and weeds has been an ongoing challenge. During much of the fall and winter, the area is unplanted.
The end goal for the upcoming project is to create a sustainable, permanent landscape feature that will have a year-round presence on campus.
The redesign process also aims to create additional landscaping around the Transylvania University sign facing North Broadway. Just before Arbor Day this past spring, the school replaced a nearby red maple in Carpenter Circle after high winds toppled it.