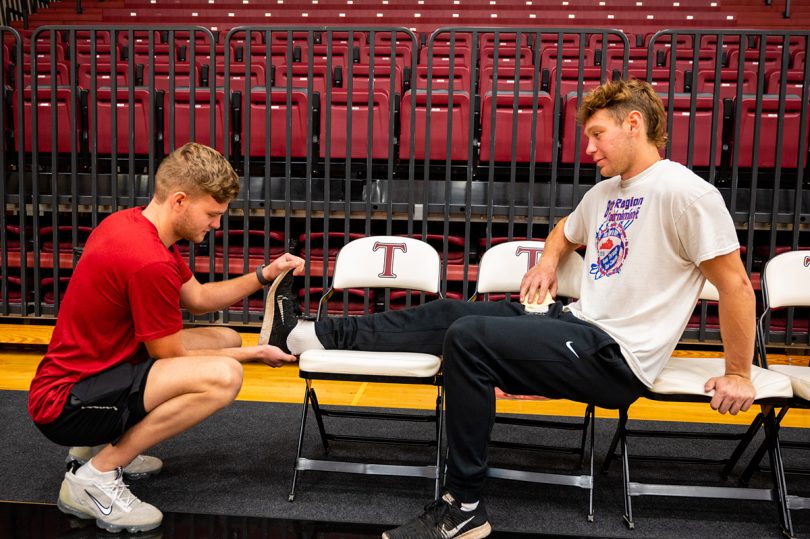 Transylvania University sophomore Colby Napier has seen first hand the positive impact Appalachian Regional Healthcare has on Eastern Kentucky families, from his papaw's medical care to flood relief.
So the health and exercise science major felt honored when he got a chance this past summer to shadow a physical therapist in Hazard through Transylvania's ARH partnership, which also includes scholarships (apply by Dec. 1).
Back when Napier was in high school playing basketball and baseball, the Hindman native learned the value of PT — how it can help get athletes back on the court or field playing at 100 percent.
Now a basketball guard for the Pioneers, Napier is preparing for a career where he can help others do just that.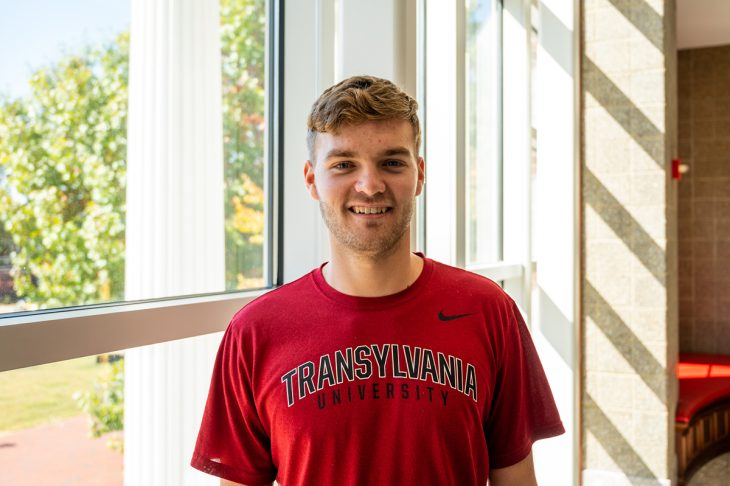 "Getting to know your patients is the main thing," he said. "Carry on a conversation. If you're a patient, you don't want to sit there and not be able to talk to your physical therapist."
Through his shadowship, Napier saw the value of developing this kind of rapport with patients — he also was able to go beyond simple observation and work directly with one of them, assisting with medicine ball and weight exercises.
Since Napier plans to attend graduate school at the University of Kentucky, he has to get a certain number of PT volunteer hours as an undergraduate. Participating in the ARH shadowship in only his second year will give him a head start on this, so he can make sure he has plenty of time for other experiences like attending campus events with pre-health speakers and working with his 100 Doors to Success alumni mentor.
Transylvania pre-health adviser Robin Prichard helped guide him to the opportunity near his hometown. "We are so thankful that Transy's partnership with ARH has opened up doors for our students to obtain shadowing experiences and internships," she said "Shadowing is so valuable in allowing students to gain insight into different health care careers."
Prichard also pointed out how Napier is not only a campus leader and student-athlete, but also, thanks in part to his shadowing, he's a strong candidate for physical therapy school.
"We are excited to continue to connect other Transy students to ARH," she said.
The first cohort of the scholarship part of the program began this fall. These participants, who are interested in either clinical or administrative health care jobs, must hail from areas served by ARH in southeastern Kentucky and southern West Virginia. They'll return to Appalachia after they earn their degree from Transylvania, or following graduate or professional school, and work for ARH for at least three years.
The program is for both current and prospective students. Incoming students interested in an ARH scholarship must complete an interest form as well as Transylvania's application for admission by Dec. 1. Current students should reach out to Prichard or Sarah Coen for more details on applying.