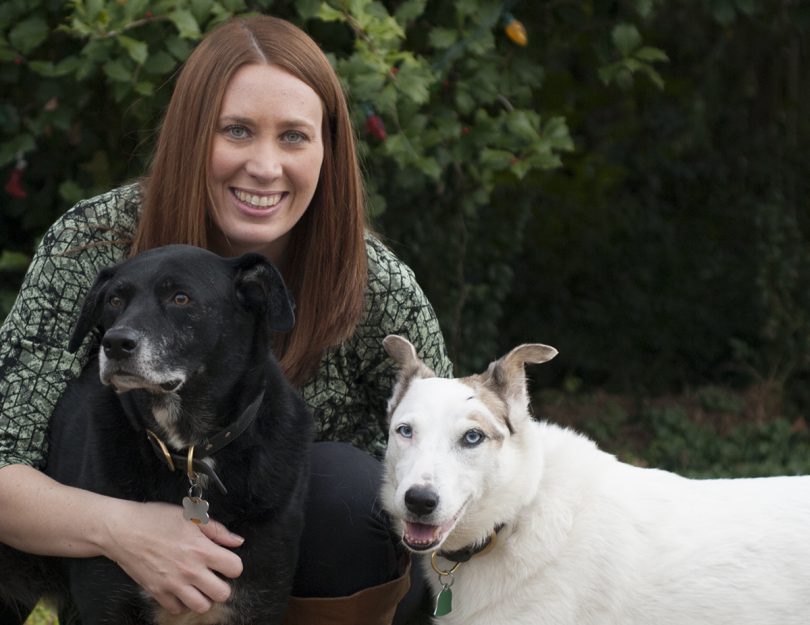 Ellen Furlong '03 has had animals on her mind for as long as she can remember (even her first word was her dog's name).
These days, it's the minds of animals (especially dogs) that have her attention.
Furlong, Transylvania University's newest psychology professor, plans to open a canine cognition lab in the old Rafskeller space. (From the dogs' perspective, their contribution to science will involve 10 minutes of playing games along with getting petted and treats.)
Additionally, this May term Transylvania students can sign up to take the course "What does Fido know?" with Furlong.
Find out what she has to say about the goings on inside a dog's head in recent podcasts here and here — and check out her audiobook "Decoding Dogs: Inside the Canine Mind."
"Furlong" will likely sound familiar to members of the Transylvania community, where her father Jack was a philosophy professor for 28 years. They've published research papers together on topics like ethics related to animal captivity.
When Ellen Furlong was still in high school, she worked with her dad's colleague Meg Upchurch on dog therapy research. Then as undergrad at Transylvania, the math major and psychology minor studied denizens of a Primate Rescue Center in nearby Nicholasville. She also got in the liberal arts spirit of the school, coming close to earning minors in biology, English and anthropology.
After receiving her BA, Furlong got a Ph.D. in psychology from The Ohio State University. Then at Yale she helped found a dog cognition lab and did other postdoc work with primates related to a question of behavioral economics: How do bonuses affect performance in capuchin monkeys? Furlong continued her work with animal cognition, including with the Louisville Zoo's orangutans, as a professor at Illinois Wesleyan University.
"I was sort of a liberal arts poster child as a student, and I think my research now reflects that," she said.
Furlong's work is more than academic. The more we know about how canines think, the better it is for them. After all, we often get dogs wrong because we assume our minds work the same way (they don't).
For instance, we're liable to not walk dogs in a way that's best for them. "We've got it backward," Furlong said. We think the most important part of their walk is the physical exercise — but the mental exercise they get is even better. "They're going to get that if you let them stop and sniff things" (as opposed to a forced march). With their powerful sense of smell, they're gleaning rich details like who's been hanging around that day at the hydrant.
Once Furlong's research lab is built — for now she's got a mobile one — she may benefit from those who already regularly walk their dogs across campus. "Hopefully we can encourage them to take a detour and come to our lab and get their dog some treats and belly rubs," she said.