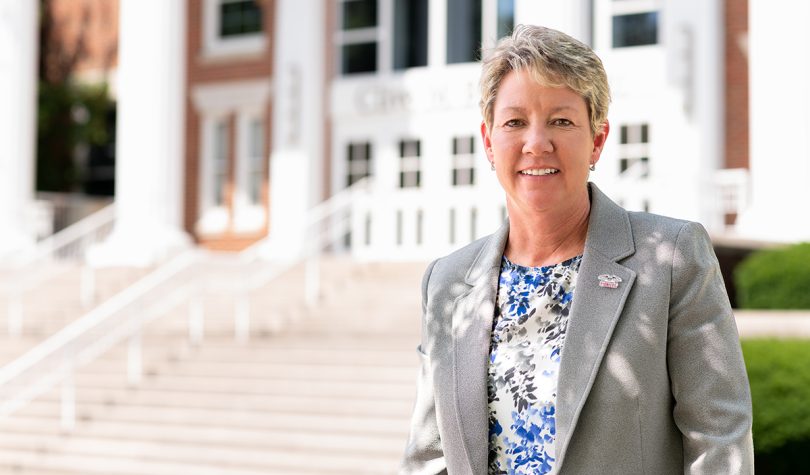 Holly Sheilley, Transylvania University's vice president of athletics, has been elected to serve as chair of the NCAA Division III Management Council effective after the NCAA convention in January 2023.
In her new position, Sheilley will play a leadership role in the NCAA's largest division, which serves more than 440 schools and 195,000 student-athletes. The Management Council reports directly to the NCAA Presidents Council, implementing policies adopted by the NCAA Board of Governors and DIII Presidents Council. The Management Council sponsors legislative proposals, interprets bylaws and resolves DIII issues and recommendations from other committees and working groups throughout the division.
This is a pivotal time for the NCAA, with a recent decision giving each of three divisions their own autonomy, and with challenges like falling enrollments and skyrocketing expenses. "There's some big issues for DIII," Sheilley said.
"Our council will continue to focus on the next chapter for Division III as an autonomous body," she continued. "During this time of new independence, it's a good time for all of us to reevaluate whether the DIII philosophy still aligns with our practices and policies."
According to the NCAA, this is a philosophy that "places the highest priority on the overall quality of the educational experience and on the successful completion of all students' academic programs. [DIII schools] seek to establish and maintain an environment in which a student-athlete's athletics activities are conducted as an integral part of the student-athlete's educational experience, and an environment that values cultural diversity and gender equity among their student-athletes and athletics staff." Transylvania Athletics follows this spirit in supporting its amateur student-athletes.
Sheilley said that in her new role she will be a voice for all Division III institutions, which in turn will benefit the university. "We want to offer the best student-athlete experience at Transylvania, and we believe that NCAA Division III is the way to continue to build upon our goals. The NCAA is a membership organization, and it is important for all of us to be willing to work and serve for the betterment of our student-athletes."
Sheilley came to Transylvania nine years ago after serving as assistant director of championships at the NCAA. She oversaw championships in DIII football and women's basketball, DI and DIII cross country and track and field, and in all three divisions for rowing.
While continuing to work at Transylvania, Sheilley will serve as Management Council chair for a year — or longer if she's reelected — and her term as a member on the council will conclude in 2025. Michelle Walsh, director of athletics and physical education at Vassar College, was elected vice chair.
"We have not only a lot of members but a lot of student-athletes counting on us every day," Sheilley said. "I feel honored to have this opportunity."