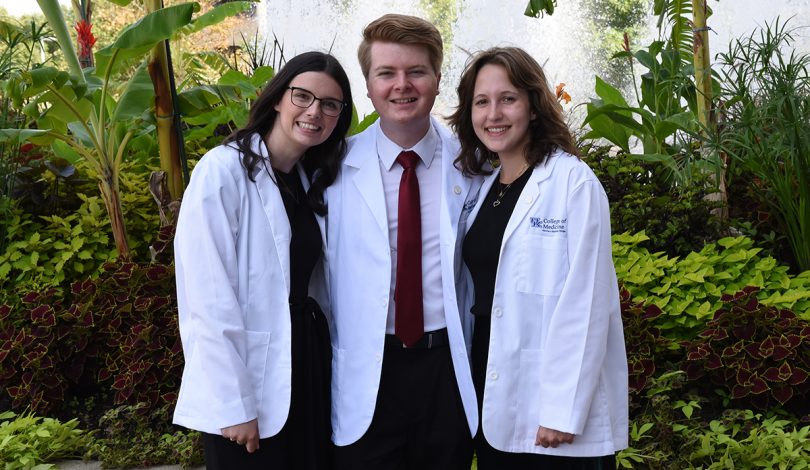 This time of year is exciting for Robin Prichard, Transylvania University's pre-health adviser, as recent graduates send her images that embody years of hard work — and promising careers to come.
They're photos from white coat ceremonies, rites of passage for students entering medical professional schools.
"It signifies years of hard work as an undergraduate student and the achievement of maintaining a high GPA in very challenging courses, scoring well on the MCAT exam and navigating the medical school admission process," Prichard said. (More than 90 percent of Transylvania students recommended to med school are accepted.)
Emmy Trammell, who's entering UK College of Medicine, said, "My white coat is a reminder that even though school can be tough, I'm working toward a very rewarding and important career of service to others. It's the first official step to becoming a medical care provider, and it reminds me to keep pushing myself to become the best provider I can be for my future patients."
A total of 13 new alumni have begun their medical school journey after getting strong support as undergraduates. "Transylvania's Pre-Health Committee invests much time mentoring pre-med students individually as they navigate the medical school application process," Prichard said. For instance, the Writing Center hosts workshops that help students craft their med school personal statement. And the Center for Academic and Professional Enrichment connects them to shadowing opportunities and helps them prepare for admission interviews.
"At Transy, there truly is a village of support for pre-med students," Prichard continued.
The top photo is of (l-r) Tori Griffith, Justin Hudnall and Miranda McCormick, who were part of the University of Kentucky Early Assurance Program. Below are a few of the other recent Transy grads entering medical professional schools.