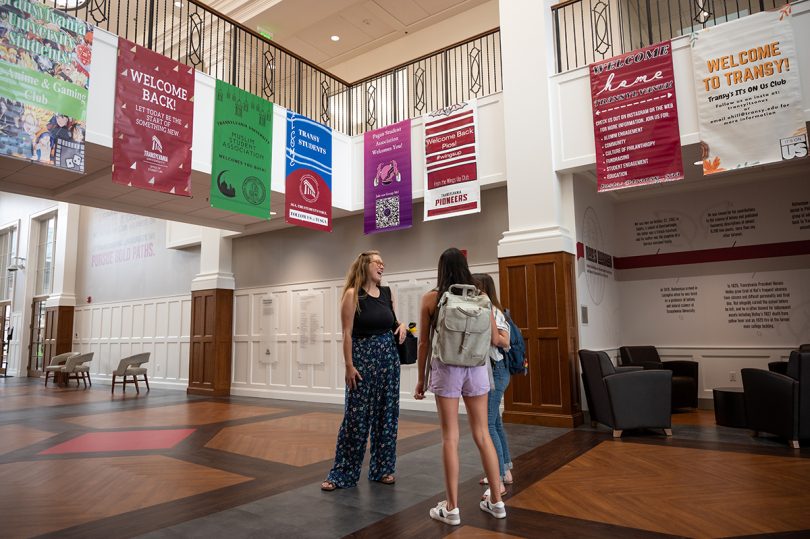 When Corinne O'Bryan first started college, she didn't attend any orientation events. So she felt alone for a bit.
As Transylvania University's assistant director of student success, O'Bryan is now making sure the 300 or so members of the Class of 2026 feel like they have a new home, a place where they know people care about them.
This is O'Bryan's first New Student Orientation at Transylvania — in fact it's going to be new in a way for the whole campus community.
This year's orientation, which begins with Friday's first-year student Move-In Day, will feature a first-ever "Pass on the Light" ceremony Saturday morning, along with traditional favorites like Sunday's Greet Line and Class Photo on the Old Morrison Steps.
Beginning at 10:30 a.m. Saturday in Haggin Auditorium, "Pass on the Light" will be a nice send-off for families, and it will help mark their students' transition to college, O'Bryan said. (These new Pioneers will say bye to their families after the event, before the afternoon activities start.)
The "Pass on the Light" (electric) candle ceremony draws inspiration from Transylvania's motto — In Lumine illo Tradimus Lumen, "In That Light, We Pass on the Light" — and will feature members of the school community passing on words of wisdom.
Other orientation events include a welcome lunch for legacy students, Pioneer Prep Sessions, an Outdoor Glow Party and plenty of other fun and informative activities. Check out the full schedule.
As is tradition, new students will receive their commemorative coins inscribed with the school motto and an inspirational quote during an Opening Assembly for the whole campus in Haggin on the first day of classes, Aug. 29, at 4:30 p.m. A welcome line and school community picnic will follow in the area around Alumni Plaza.
These events — in addition to all the help from the Transylvania community they'll get with moving into their residence halls — will contribute to the new students' sense of belonging.
This includes those who might not have been excited to jump in right away. "I want to make sure we are able to catch all those students," said O'Bryan, who since she started in March has been helping Pioneers feel like they have a place at Transylvania. "I want to make sure we don't have any students who are feeling isolated or not connected to the community."
That ties into a big focus of hers: retention. Soon after orientation, she plans to launch initiatives involving departments across campus to help ensure current students stay until they graduate.
Originally from St. Louis, O'Bryan fell in love with helping out college students after starting her career in elementary education. (She's also moved around a lot with her husband — from South Korea to Savannah, Georgia, to Lexington — and she loves animals.)
"I feel passionate about ensuring that every student has a great experience," O'Bryan said. "Being in Student Life is a real chance to affect that kind of change."