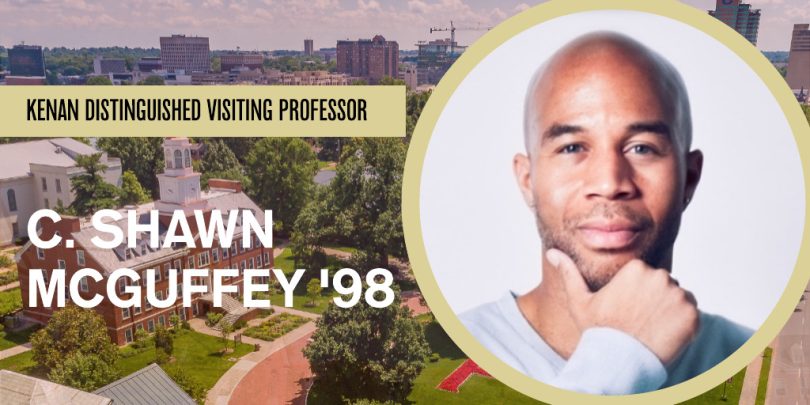 C. Shawn McGuffey, a 1998 graduate of Transylvania University, will return to campus beginning in January 2023 as the Kenan Distinguished Visiting Professor. A Lexington native, McGuffey is an associate professor of sociology and past director of African and African diaspora studies at Boston College, where he has taught both undergraduate and graduate courses since 2005.
The visiting professorship is made possible by the William R. Kenan Jr. Charitable Trust and the Kenan Fund for Faculty and Student Enrichment at Transylvania. The program brings to campus nationally recognized scholars with fresh points of view to invigorate current faculty and provide students access to a learning experience they would not have under other circumstances. McGuffey will teach during the 2023 winter and May term sessions.
"My first peer-reviewed journal article was based on research I conducted at Transy and was co-authored with Transy professor Brian Rich. We examined the ways in which gender, race and class shaped peer interactions in middle childhood," McGuffey recalled. "I'm looking forward to giving back a little of what my college has given me."
"I am delighted to welcome Dr. McGuffey back to Transylvania University. His expertise in African and African diaspora studies augments our curriculum and complements our already strong sociology program," said Rebecca Thomas, vice president for academic affairs and dean of the university. "I am also pleased that Dr. McGuffey has agreed to mentor student research work, paying forward the mentoring he received at Transylvania. It will be a wonderful opportunity for our students to benefit from his expert guidance and to connect with his active scholarly work."
After graduating with honors, majoring in anthropology and sociology at Transylvania with minors in both multicultural studies and women's studies, McGuffey completed a Ph.D. in sociology from the University of Massachusetts, Amherst. His scholarly work primarily highlights how race, gender, sexuality and social class both constrain and create the choices survivors pursue in the aftermath of trauma in the U.S. and throughout the African diaspora.
McGuffey is the recipient of three American Sociological Association section awards: the 2006 Sally Hacker Award for research excellence, a 2009 Best Research Article Award and a 2016 Distinguished Article Award. He also received an Honorable Mention in 2021 for the Distinguished Article Award in Race, Class and Gender. The Society for the Study of Social Problems honored him with the Kimberlé Crenshaw Award in 2016 and in 2022 with the Arlene Kaplan Daniels Award for the best article on women and social justice. The Ford Foundation, a Research Incentive Grant, and the Institute for Liberal Arts have supported his research. He has given invited lectures at the Center for Children and Childhood Studies at Rutgers University, The Center for the Study of Violence and Prevention at the University of Colorado, Harvard University and the University of the Western Cape in South Africa.
"Understanding how intersecting identities impact the coping strategies of child and adult sexual assault survivors has been the primary focus of my scholarship, and Transylvania has proven to be a great launching pad for my academic career. Although intersectionality is now a staple of feminist theory, it was still a relatively new way of theorizing childhood when my first paper was originally published in 1999," McGuffey said.
While at Transylvania, McGuffey was a member of the Sexual Grievance Committee, coordinator of the First-Year Urban Program, coordinator of the Minority Enhancement Program, president of the Inter-Cultural Awareness Group and president of Omicron Delta Kappa Leadership Honorary among others. He was a Transylvania Scholar and recipient of the Transylvania Leadership Award.
In 2013, McGuffey received a Distinguished Achievement Award from Transylvania. He also delivered the university's 2018 convocation address.