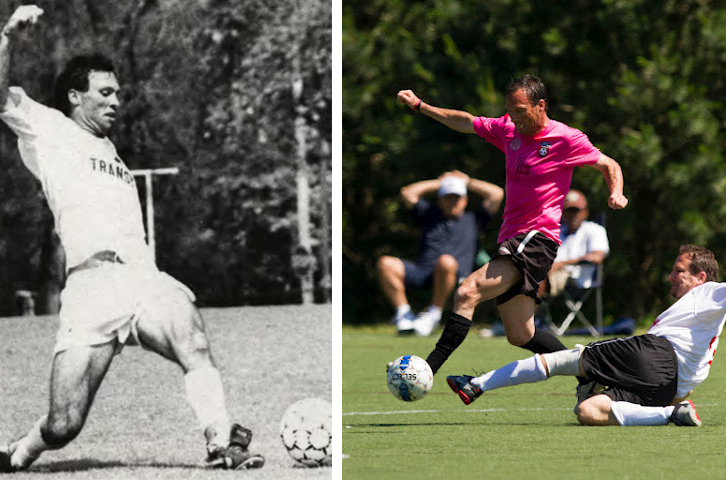 Pioneer Hall of Famer Sean Carey '92 talks about the expansion of New England's largest youth soccer league — which he founded and directs — and his own journey with the sport for a recent New England Soccer Journal podcast.
As a schoolteacher, coach and administrator, the Transylvania University graduate has helped young people develop both academically and athletically over the past three decades.
In his New England Club Soccer League, more than 1,300 teams are registered to play this fall, and almost 2,000 teams from over 60 clubs are lined up for the spring (with the addition of older players), according to the New England Soccer Journal.
Carey, who was inducted into the Pioneer Hall of Fame in 2011, was named Pioneer Athlete of the Year as a senior. His soccer highlights at Transy include being selected for three NAIA All-American teams — and his 1990-91 squad went 20-3-1 in the regular season, winning its district NAIA championship.
Carey later played professional soccer and then was league director of the New England Premiership until 2020.
This coming school year, he's taken a leave of absence from teaching and will focus on soccer — "only one ball in the air instead of two," he told "The Goal" podcast.
Listen to the interview:
On his experience playing soccer as a kid …
"I think I was maybe six or seven when my dad made me go out to try out for a team in Lexington. And at that time, obviously, like the rest of the country, there wasn't as formalized a club component." Also: "For players, when you got in the high school ages, you competed in men's leagues. If you really wanted to do that, that was your aspiration, then your opportunity to sharpen your knife was to get better against bigger, stronger players."
On making a mark on the club soccer scene …
"For us, it's trying to provide the infrastructure for players that aspire to play at that next level, for them to be competing in a training and playing environment within their club to reach that next club that they want to reach."