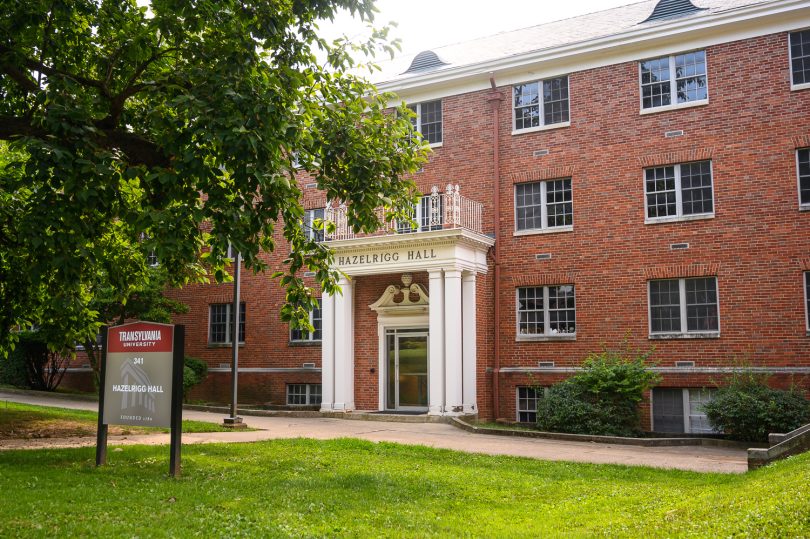 "A despairing college student, a collection of lawbooks, and a defining moment in African American history in Frankfort." That's how Alyssa Ollier, a digital archivist with the Kentucky Historical Society, started a Twitter thread Tuesday afternoon. Her work at KHS introduced her to the Hazelrigg family, a history she shared via social media.
What followed is a series of tweets documenting the history of Mattie Laudeman Hazelrigg, an 1872 graduate of the Hocker Female College (later known as Hamilton College and merged with Transy in 1903), James Hervey Hazelrigg (Class of 1871) and their son, Dyke Laudeman Hazelrigg (Class of 1901).
Here's more of the Twitter thread:
That's not all to the story. According to the Nov. 18, 1960, issue of The Crimson Rambler, a $75,000 gift from Dyke Hazelrigg was presented to Transylvania for the completion of a "new dormitory for men." Hazelrigg had served as a member of the university's board beginning in 1917 and was its president from 1942 to 1958. Following his graduation from the university, he received a law degree from Harvard and, in 1954, was presented an honorary Doctor of Laws from Transylvania. His father, James Hervey Hazelrigg, served as a judge on the Courts of Appeals of Kentucky from 1893-1901 and was chief justice from 1899-1900. James Hazelrigg served on Transylvania's board from 1884 to 1916.
"Together, the two men have contributed more than 75 years of service to the college," according to the Rambler. The new dormitory was named after them.
Hazelrigg Hall has served as both residential and academic space on campus. While currently offline pending renovations, in its most recent use, the first floor and lower level housed classrooms, offices and seminar rooms for the psychology, sociology and anthropology programs, plus a computer lab and the Frazier Behavioral Research Laboratory. The second and third floors provided quiet, single-room residential facilities for upperclass students.
Special thanks to Alyssa Ollier and the Kentucky Historical Society.