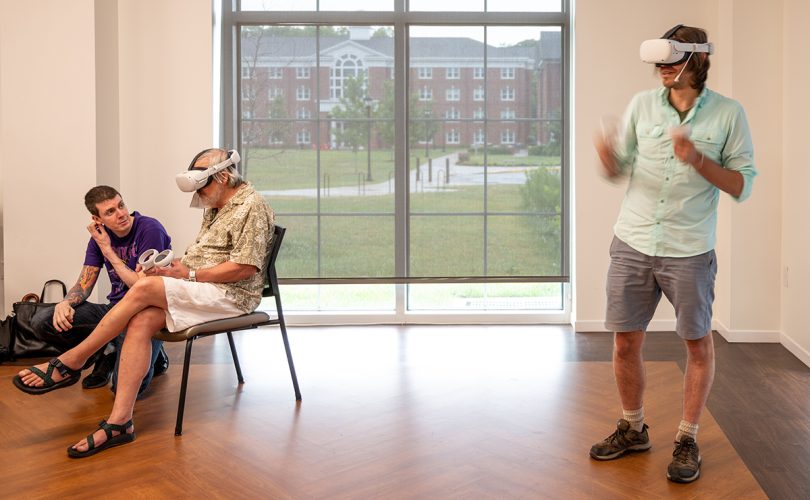 Transylvania University professors from across the disciplines donned virtual reality headsets and immersed themselves in new worlds this week to explore ways to incorporate the technology into their classrooms.
Sponsored by the school's Digital Liberal Arts initiative and academic dean's office, this four-day workshop helped faculty and staff explore how VR can make learning a visceral experience.
Picture a calculus lesson where you explore a surface in VR, as opposed to staring at a drawing in a textbook. Or how about reaching out and manipulating a molecule in organic chemistry?
"VR has the capability to really bring topics to life for our students in a way that we cannot do in a traditional classroom," said exercise science professor JJ Wallace, who led the sessions.
To help professors connect their classes with this tech, a virtual reality lab featuring about 20 headsets will be opening this fall in the Mitchell Fine Arts basement.
Wallace herself dove into the technology after the pandemic started and society went virtual, launching a DLA-funded research project on the health and wellness benefits of VR gaming.
She noted the growing importance of virtual reality — in all fields. "If we prepare our students now, they will be prepared for the jobs of the future."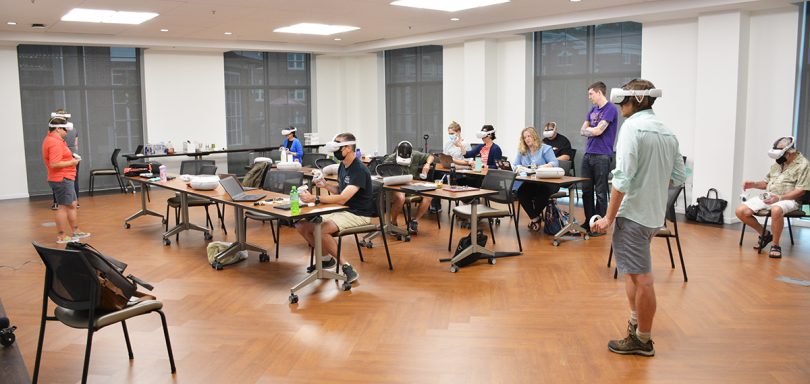 From studying the research and what she's seen first-hand, Wallace has discovered how VR can improve not only outcomes in the classroom but also engagement. "Students really like technology, and they like to experience these new and different ways of learning," she said.
David Kaufman, a philosophy and classics professor, took a break from exploring virtual worlds during the workshop to discuss the potential of VR. His students have already been using the technology by visiting the past in applications like Rome Reborn.
"This offers the possibility of getting as close as you can to actually visiting ancient Rome, ancient Athens and the ancient Mediterranean — experiencing it in a visceral way," Kaufman said. "That's no substitute for the hard work of analysis, but it's an absolutely wonderful way to contextualize things."
Another workshop participant, theater professor Tosha Fowler, had never experienced VR before, but she's excited about the possibilities.
It could be a part of her expanding the use of technology in her courses as the theater field in general gets more high tech. (Actors these days are making motion capture videos for gaming avatars and performing on stage with holograms.)
Fowler envisions how VR could help train performers. For example, someone playing Thor could visit a medieval armory and pick up different war hammers and swing them around.
"Part of my job is to help them develop their imagination," said Fowler, who has students do exercises to get their creativity flowing. Novel VR experiences can strengthen their imagination skills, which are important to any liberal arts education.
At one of this week's sessions, Fowler took part in a virtual "Edward II" performance at the Barn Theatre in England. "You don't know where you are at first, and then you're like, oh, I'm on stage, and the actors are walking past you," she said. "It was wild."