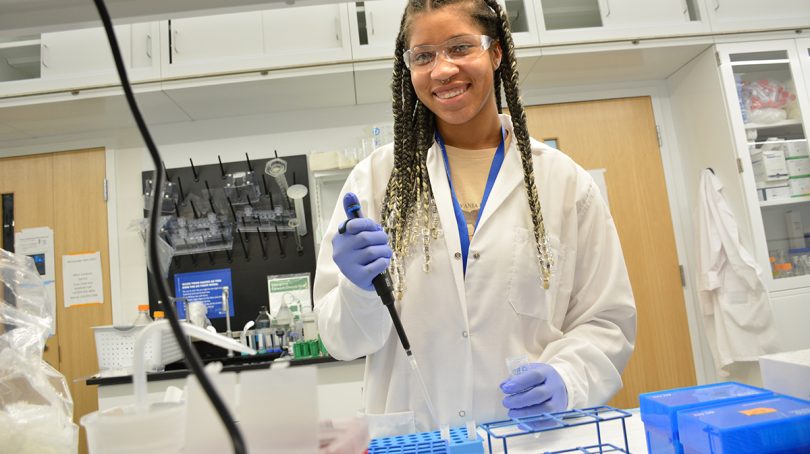 Over summer break, Transylvania University student Karrington Jackson '23 is sharpening her lab skills while helping advance cancer research.
She's participating in the University of Kentucky's Markey STRONG Scholars program, which for 10 weeks provides career development and networking for college students who come from historically underrepresented or underserved racial and ethnic backgrounds.
Working with two peer mentors and Krystle Kuhs, co-leader of the Cancer Prevention and Control Research Program, Jackson is looking for a connection between the human papillomavirus (HPV) and oropharyngeal cancers, 70% of which stem from HPV, she said. "As of right now there is no early screening detection for this type of cancer, and we are trying to find a link between the two to hopefully in the future be able to have a preventative measure and early detection."
Jackson, who hopes to study in a physician assistant program after graduation, said the Markey STRONG Scholars experience will help her reach her goals because it's "geared toward helping minorities get a foot in the door."
Taking advantage of Lexington's many health care centers, the health and exercise science major also plans to shadow physicians in different fields to better understand the medical world. (That's in addition to being a standout volleyball player and tutor at Transylvania.)
After PA school, Jackson plans to specialize in either anesthesiology or gynecology and help disadvantaged communities.
This ties into her summer program, which will include presenting her work in an Undergraduate Summer Research poster session.
"Focusing on diversity in cancer research is important for me because I want to be a role model for young Black girls and someone they can look up to and say, "I want to be like her," Jackson said. "I think that the medical field needs to resemble what the world looks like."
She added: "Nobody got anywhere alone, and I think this program will allow for more diversity in a field that lacks differences. I think that the medical field needs to resemble what the world looks like, and this program is a stepping stone for people of color."