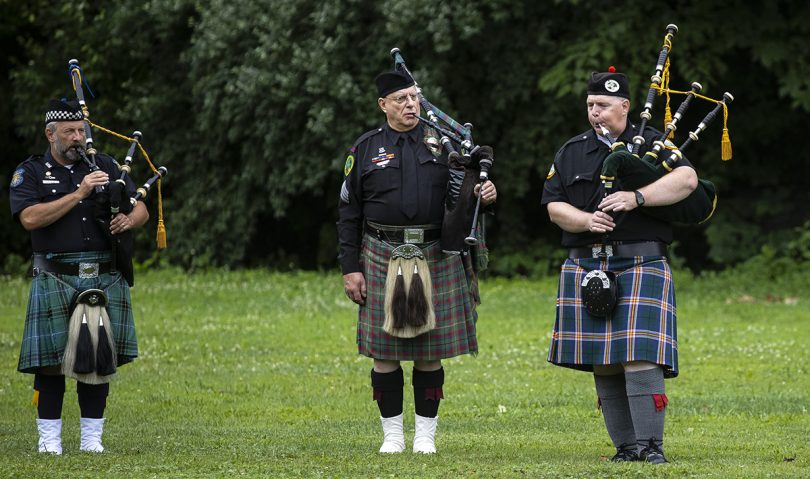 There's something about hearing the bagpipes during a somber occasion like a funeral.
"I hear a lot of people say it just stirs them up emotionally," said Will Young, a Transylvania DPS officer who's piped for 30 years.
Earlier this month, Young helped organize other bagpipers to play at the funerals of three Floyd County officers killed in the line of duty. (He was featured on LEX 18.) Young's wife is from the Floyd County area, and her brother is a paramedic who was on duty there the night of the shootings.
Young (pictured right) played solos of "My Old Kentucky Home" during the funerals on three consecutive days — it's a tune dear to the hearts of Kentucky law enforcement because troopers sing it each night at the academy, he said.
Young has played at other officers' funerals over the years. They included one in 2010 for local police officer Bryan Durman as part of the Lexington Honor Guard, which Young has volunteered with since 2007.
He also piped at a service for a Bardstown officer killed nine years ago. That funeral drew more than 70 pipers and drummers, and Young said he tuned so many of their bagpipes that day his tuner broke.
Other of the many events Young has taken part in include the World Pipe Band Championships in Scotland with the Louisville Pipe Band, and the Royal Nova Scotia International Tattoo with the Black Watch of Canada.
Young also teaches bagpipes through Kentucky United Pipes and Drums in Lexington and is a mentor during a police honor guard training school where participants learn funeral procedures.
Besides the bagpipes, Young plays brass and woodwind instruments and has performed in the Central Kentucky Concert Band (currently directed by Transylvania professor Ben Hawkins).
Young got started playing bagpipes back when he was a student at Morehead State University. "I decided I was going to learn pipes because I just wanted to since I was young," he said.
Part of their appeal in Kentucky could stem from the big Scots-Irish influence in the state. Plus, for many, there's a sense of significance and gravity in the notes.
"They know it's a special occasion when they hear bagpipes," Young said.
---
Photo: Ryan Hermens, Lexington Herald-Leader