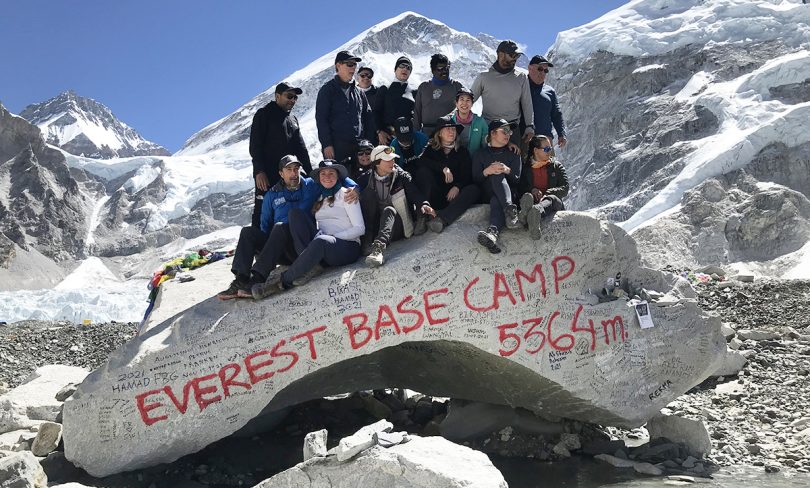 Transylvania University alumnus Dave Hoffman '90 is helping take cancer research to new heights — 17,598 feet, to be exact.
He and a team of other biotech professionals trekked to the South Base Camp of Mount Everest this past spring to support Climb to Fight Cancer.
Hoffman personally raised more than $56,000, and his team brought in a total of over $1.3 million. Funds go to the Fred Hutchinson Cancer Research Center in Seattle.
In addition to the "breathtaking natural beauty of the Himalayas," highlights of the journey included the camaraderie that developed between his teammates, guide and hospitable Sherpas who accompanied them.
His climb honored Hoffman's mother Sandi Hoffman, a 23-year cancer survivor; and it was in memory of graduate school friend Alan Hunt and law school friend Anne Geiger.
Before starting on the trek, Hoffman wrote: "I will be climbing with a list of names shared with me by many of my donors, an honor roll of cancer survivors, but also of fathers and sons, mothers and daughters, and friends and colleagues all lost too soon to this terrible disease."
Hoffman, who grew up in Lexington, is a biotech patent attorney living in Los Gatos, California.
At Transylvania, he majored in biology and was a member of the Pi Kappa Alpha fraternity and Student Government Association.
While he's been back from Nepal for a while now, you can still donate to his fundraising page to support the cause.