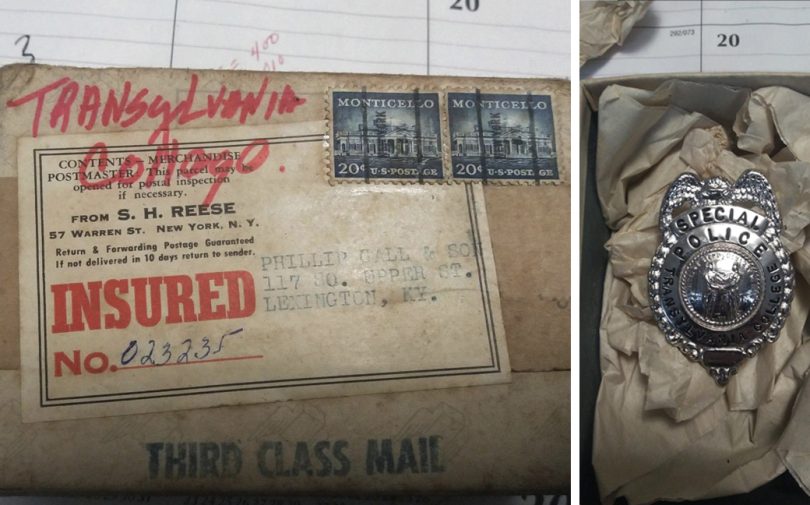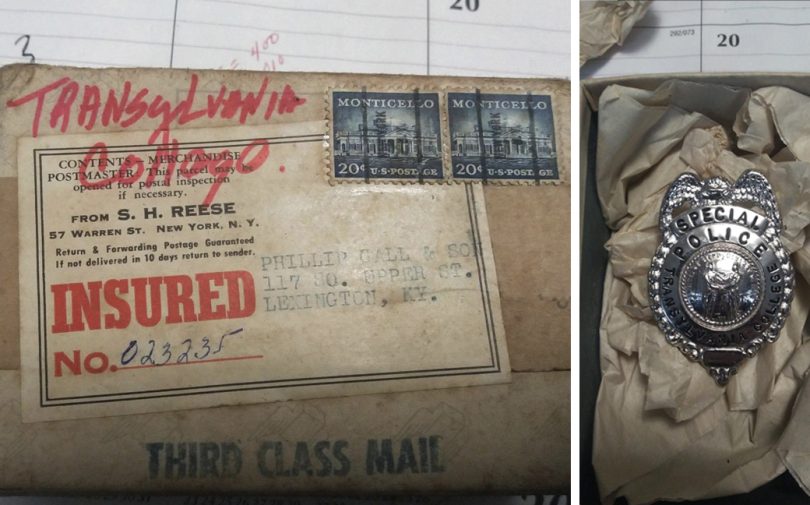 Joe McClure, director of Transylvania University's Department of Public Safety, was going through a campus mail crate delivered to his office this past fall when he noticed a package with old-timey, 20-cent Monticello stamps. Also tipping him off that the delivery was, let's say, not a timely one, was the fact it was addressed to Transylvania College, the name of the school from 1916-69.
Inside was a silver, mint-condition police badge from 1956 inscribed with: "Special Police" and "Transylvania College" encircling the Kentucky state seal.
The badge got McClure interested in the history of policing at Transylvania. But going through old yearbooks and newspapers, he couldn't find any mention from more than around 50 years ago.
McClure talked to several alumni from the 1970s, so he knows there were campus officers back then, at least to watch over the grounds at night. And he found out the Department of Public Safety was established in the '80s, back when officers wore sport coats and ties. (It's now Kentucky's only sworn law enforcement agency at a liberal arts college.)
One part of the mystery surrounding the badge has been cleared up. Turns out, this wasn't a case of an incredibly late mail delivery — the package had been stashed away in a campus vault, and a couple of business office employees found it during a cleanout ahead of renovations.
McClure has also looked into how his department has been represented on various badges and patches over the years. "It would be neat to put a display together showing that progressive history of the changes in the design of our badges and patchwork," he said.
The '50s badge came from the Lexington based Phillip Gall & Son, now Galls, which Transylvania DPS still orders equipment from. To produce the badge, Phillip Gall & Son contracted with New York's S.H. Reese, whose badges are collector items today.
McClure is curious what kind of police force Transylvania had before the 1970s, and especially what existed around the time of the badge — if there was a full-fledged agency, or if there were plans for one but they never transpired. Alumni are encouraged to email dps@transy.edu if they have any info.
"It'd be an interesting mystery to figure out," McClure said.