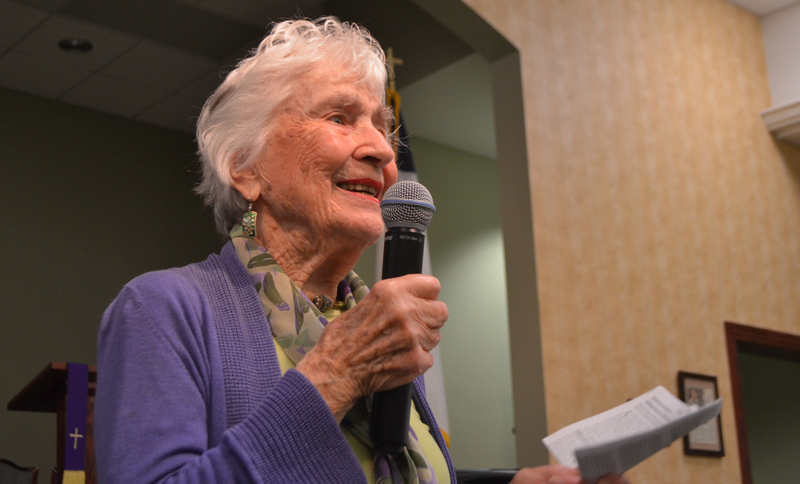 It's hard to imagine what Virginia Marsh Bell '44 thought her future would be like or the impact she would have on the world when she stepped onto the Transylvania University campus in 1940.
Bell graduated with a degree in mathematics and biology four years later, and one week after that she married Wayne Bell '40, a marriage that would last 73 years.
In the years following graduation, Virginia Bell was proud of her role as a mother and minister's wife. However, there was another career awaiting her that would change the state of Alzheimer's and dementia care on an international scale.
According to the Best Friends philosophy, what people with Alzheimer's disease need most is a friend — a best friend — to provide care, accept their illness and learn the knack of caregiving. This Best Friends model led Bell to author multiple books and articles and appear at over 100 conferences in more than 30 countries. She is considered a true pioneer in the field of Alzheimer's and dementia care. After retiring at the age of 70, Bell continued to volunteer full time with those impacted by memory loss.
In honor of her efforts, the Lexington-Fayette Urban County Council is declaring June 30 Dementia Friendly Lexington day to mark Bell's 100th birthday. Read more.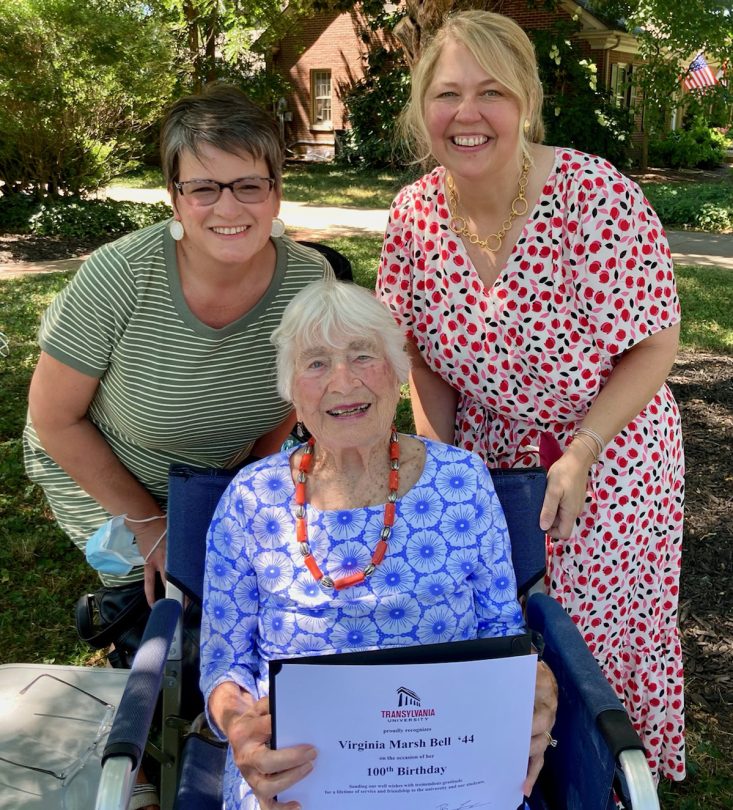 And at a drive-by birthday party, Natasa Mongiardo '96 (pictured left), Transylvania's director of alumni relations, and Kara Covert '90, associate vice president for advancement, presented Bell with a special certificate honoring her birthday and enduring commitment to the university. 
Bell has received many other recognitions and awards over the years, including an honorary Doctorate of Humane Letters from Transylvania in 1992. She was invited to Washington, DC, in 1994 by the National Council on Aging to receive its most prestigious tribute, the Ruth Von Behren Award, which is "given to the person who has done the most to support adult day care." At the ceremony, Bell, known for her spirit, said, "I only got into this so that if I end up in a day-care center, I won't have to play bingo every day."
This open acceptance of aging was clearly a household decision. Wayne Bell presented Transylvania's 2004 commencement address, where he spoke on the longevity revolution, citing the statistics on life expectancy (it was 78 at the time). He talked of the prediction that 50% of baby girls born in America in the year 2000 will live to be 100 years old — a feat now accomplished by Virginia Bell, born in 1922. He went on to say "our society needs a new view of aging in order to meet the challenges of the 21st century. This includes not only the older persons but all of us. It is especially true of the young. Whatever field of work or profession you graduates choose, your life will be unavoidably affected by the reality of the longevity revolution."
Wayne Bell knew there was a gap in the care aging folks would need. He challenged: "You are not old because you are aging. Aging is a venture into the future." He went on to charge the graduates to "decide now what kind of an old person you want to be." We believe his wife decided what kind of "old person" she wanted to be, decades ago. And the rest of us have been reaping the benefits ever since.
Virginia Bell remained involved with Transylvania after her graduation as a reunion committee volunteer, Thankathon caller, active donor and more. Even now she is a staple at the annual Alumni Weekend Convocation and always reminds those in attendance that she has never missed an Alumni Weekend.
When asked what she wants for her birthday, she said for this tribute, "I want to ask my friends, neighbors and family to make their communities more dementia friendly."
Join us in wishing Virginia Marsh Bell a happy 100th birthday!
---
Danielle Evans-Clan '17 is Transylvania's associate director of donor engagement.