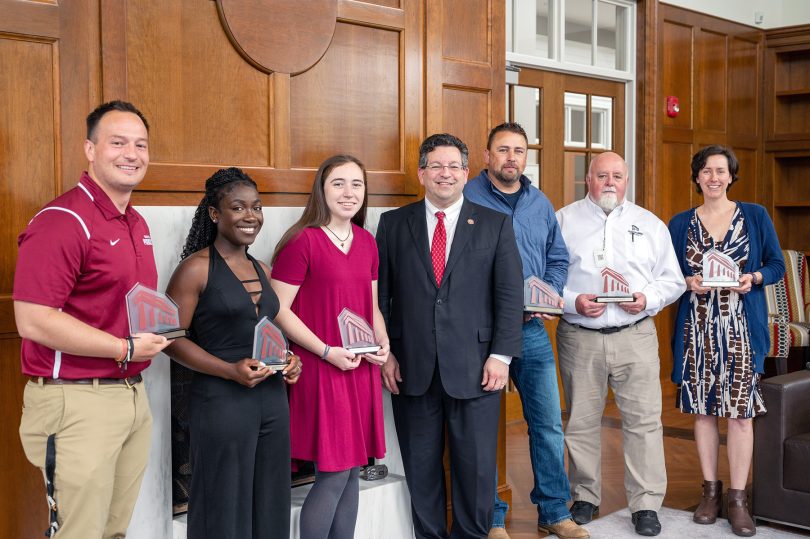 As the last classes were wrapping up for the 2021-22 academic year, the Transylvania University community came together in May to celebrate employee service and recognize individuals who are making a difference on campus and in Lexington.
The university service awards highlighted 42 employees who have worked at Transylvania for at least five years. Among the longest serving employees are professors Larry Barnes and Rod Erfani, as well as Captain Robert Gowdy, who've all been at Transy for 35 years. Professor Jack Girard was recognized for his 40 years of service.
The event also celebrated students and employees who received one of five Presidential Awards. Nominated by their peers and selected by President Brien Lewis, the awards recipients were recognized for outstanding efforts on campus, in the larger community and in the area of diversity, equity and inclusion.
2022 Presidential Awards
Men's lacrosse coach Logan Otto received the Presidential Award for Community Service for employees. "It is clear that service is just not a word to use in recruiting for coach Otto, but something he believes in and is passionate about himself," Lewis said.
Under Otto's guidance, the men's lacrosse program has worked with Vs. Cancer and the national Pediatric Brain Tumor Foundation, raising more than $20,000 to fight pediatric cancer and create awareness. This year, the team also worked with the One Kind Cookie organization and the Cookies for a Cop and our Fire Friends program, organizing and delivering thousands of cookies to fire and police stations throughout Lexington. In addition to serving as an ambassador for Vs. Cancer, Otto helps run For Keeps Lacrosse, a nonprofit that provides repurposed gear to children and families who otherwise couldn't afford to try the sport.
Anne Elizabeth Forker '24 and Shalomel Jatau '23 were presented with the student Presidential Award for Community Service for their volunteer work in Lexington.
Forker was nominated by the principal at Mary Todd Elementary, where she helps with a group of students participating in a Girl Scout troop. "Ms. Forker is faithful in her dedication to helping these students grow and experience the power and promise the Girl Scouts can offer," wrote the nominator.
Jatau was nominated by a Transylvania community member for her work on and off campus. "Not only does she make a big impact through her involvement on campus, leading group tours [and] starting an international club, but she is also giving back to her community by volunteering with eighth grade girls in a Fayette County public school," according to the nomination. "She does more than give of her time; she's giving personal love and attention to those in these organizations."
The Presidential Award for DEI Champion was presented for the first time this year to a staff member who "has been an incredible force for diversity/inclusion/anti-racism efforts." Kerri Hauman, a writing, rhetoric, and communication professor, received the inaugural award. According to her nomination, Hauman's work can be seen in her own classes, in her support for other teachers, in her research and in her planning for future programming. "She leads by example; she tends to students and colleagues with care."
Julie Perino, the university's digital content and technology integration specialist was recognized with a Presidential Award for Outstanding Newcomer. Perino helps faculty integrate digital elements and assignments into courses and works with students in those courses to ensure they are able to properly follow the assignment. "She is forward thinking and helping Transy advance in the areas of universal design [and] technology," her nominator wrote.
The Presidential Award for Outstanding Staff was presented to Danny Knox and the Facilities Management team, including the housekeeping and maintenance staff. According to the nomination: "The efforts this year by Danny and the entire facilities team has been nothing short of exceptional. Danny has led the facilities team through a very challenging period. Specifically, they successfully addressed the incremental demands and complexities presented by COVID, while also executing large capital improvement projects and maintaining a very demanding level of day-to-day service requirements." The staff was recognized for being willing to take on any challenge and work necessary to support the university community.