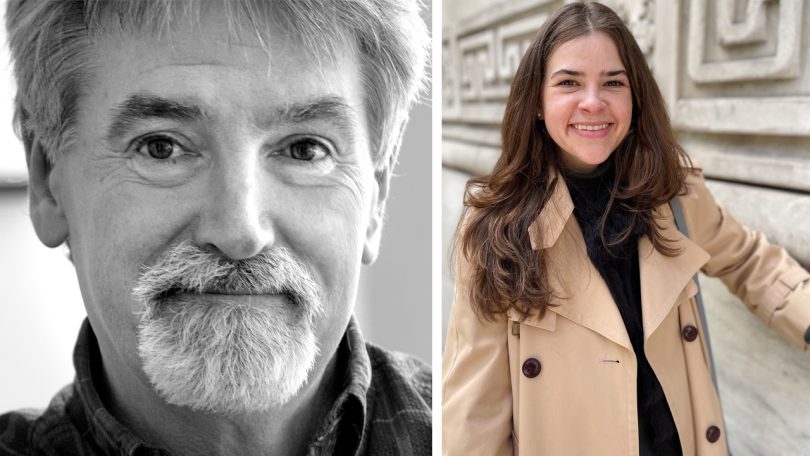 Recent Kentucky Poet Laureate Jeff Worley, winner of Transylvania University's 2022 Judy Gaines Young Book Award, will give a reading from his works and sign books on campus Tuesday, May 10.
The public is welcome to attend the free event in Carrick Theater at 5 p.m. It will also include a reading by student winner Tatianna Verswyvel-Popcev.
"This is the first time the award has gone to a former poet laureate, and Jeff Worley has been a vibrant member of our literary community for over 40 years," professor Maurice Manning said. "His accomplishments as a poet are significant."
The Lexington poet's works include six books and two chapbooks; he also edited an anthology for University Press of Kentucky: "What Comes Down to Us." Worley's poetry collection "The Only Time There Is" won the Mid-List Press first-book competition, and "Happy Hour at the Two Keys Tavern" earned him the Kentucky Book of the Year in Poetry honor and a Pulitzer Prize nomination.
Worley also has received three Al Smith Fellowships from the Kentucky Arts Council as well as a National Endowment for the Arts Creative Writing Fellowship — and more than 500 of his poems have appeared in literary magazines and journals over the past 45 years, according to his bio.
This year's Judy Gaines Young student winner was "born in Venezuela to a family of passionate equestrians and travelers," she said. After moving to the U.S., she was first published in an equestrian magazine at age 16 and then co-published her first translations five years later.
The international affairs major and English minor serves as an acquisitions assistant with the University Press of Kentucky.
Verswyvel-Popcev is Transylvania's first student winner for whom English is a second language, Manning said. "She has published accomplished translations in collaboration with professor Jeremy Paden and is a skilled writer in all genres.
"We are thrilled to invite members of our campus and the broader community to celebrate the rich tradition of literature on our campus," Manning continued.
Previous Judy Gaines Young Book Award winners include Kathleen Driskell, Robert Gipe, Amy Greene, Silas House, Holly Goddard Jones, Frank X Walker and Crystal Wilkinson.