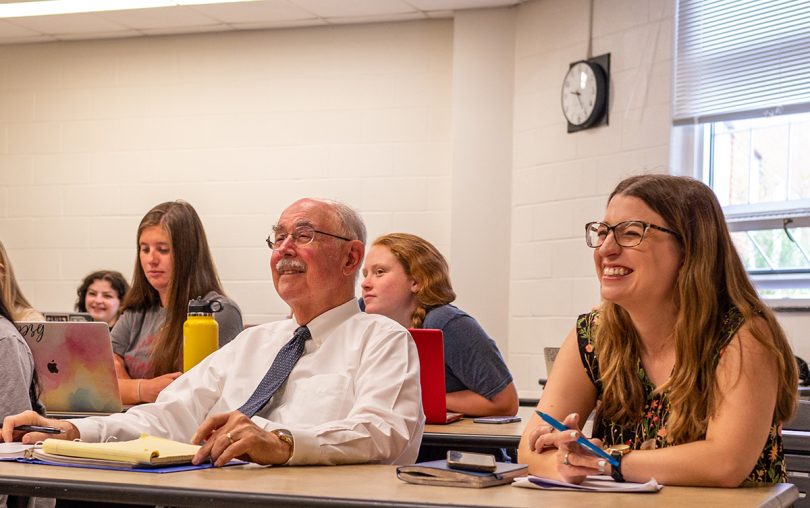 When Madeline Aulisio '10 returned to her alma mater to teach health and exercise science, people said she'd come full circle.
But as far as full circles go, that was nothing.
Back when she was an undergrad at Transylvania University, she took a Health Psychology class with professor Mike Nichols '68. That course inspired her to eventually earn a Doctor of Public Health degree and set her on a path to become a professor in the field.
Now she and Nichols are team-teaching Health Psychology for May term. "Being mentored by somebody and now getting to stand alongside them and also provide that same sort of teaching and mentorship to our students together has been really wonderful," Aulisio said.
Nichols also appreciates the partnership. "To team-teach with a former student who is so knowledgeable has just been magic," he said.
When Aulisio was his student, she learned that health doesn't just mean the absence of disease or physical injury — there's an array of interwoven types of wellness, from physical to mental to financial. Health care can involve positive psychology and prevention measures at the population-level, both of which are taught in the class.
As with a lot of Transylvania May term courses, Health Psychology takes an interdisciplinary approach, offering dual credits in health and exercise science and psychology.
This synergy makes it a richer experience for the students, who learn a lot of the clinical side of things from Nichols, a psychologist, and the public health side from Aulisio. She pointed out how this helps break down a false dichotomy "where people think your mental health is separate than the health of the rest of your body."
The class also prioritizes group activities and is driven by its students, who are each responsible for facilitating a topic of their choice on a certain day; after their presentation, the professors will lecture.
In a recent session, students designed resources on a particular disease to be displayed in a health professional's office, tailoring the message to foster a patient's hope and belief that they can take steps to have a positive outcome in their own treatment. "I am so impressed with the products they produce," Nichols said.
He's also impressed with his former psychology student turned professor. "I could tell back then she was outstanding, and I knew she was going to do great things."