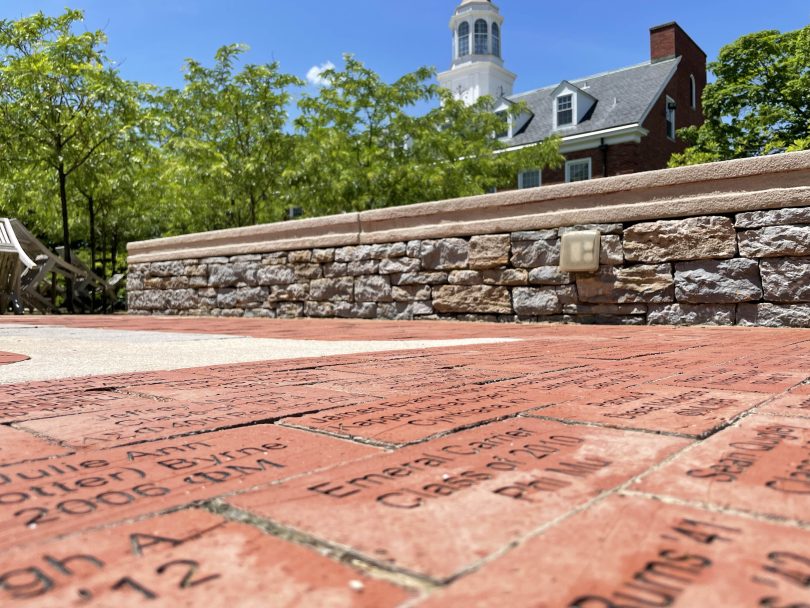 In 2015, Transylvania's Alumni Board ​and Young Alumni Council​ dedicated Alumni Plaza between Old Morrison, Mitchell Fine Arts and Carpenter Academic Center — the true heart and crossroads of campus. Since then, each student has traversed this space, often forming memories of special friendships and academic courses taught there. The location provides a common space to leave a legacy through the bricks and pavers that Transylvania installs each year with graduate, faculty and staff names.
The Class of 2022 will soon join Transy's 242 years of successful alumni. By adding a brick or paver in a graduate's name, families can celebrate their time on campus and establish their continued legacy at their alma mater.
"You can include Greek organization letters, class years and other details, literally etching your student's name and interests in stone," said Kara Little Covert '90, Transylvania's associate vice president for advancement. "You may also purchase bricks and pavers to thank special faculty members or to celebrate entire families of Transy graduates."
Proceeds from the brick program fund the Legacy Scholarship for children and grandchildren of alumni who will attend Transy in the future.
Adding a student's name to the more than 400 currently in the plaza is easy, just:
Go here and click the "Donate" button.
Select "Pioneer" level to purchase a brick, which costs $150 and holds three lines of text with 16 characters per line, including spaces and punctuation. Larger pavers cost $2,500, are 18" x 9" with your choice of text and include two etched bricks. Brick and paver installation will take place in late summer or early fall.
Include the phone number and email where we can reach you on the gift form. Should your message exceed the available text space, or if we have questions, we will contact you.
All brick and paver purchases are 100% tax-deductible, and you will receive a receipt for your contribution. If you have any questions, please contact the alumni and development office at 800-487-2679 or giving@transy.edu.