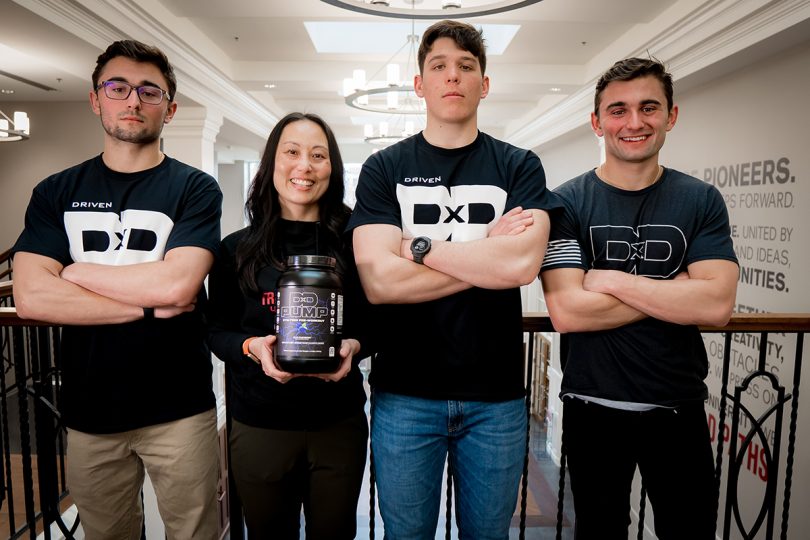 Transylvania University's Center for Entrepreneurship is pumping up support for the first Pioneer ever to compete in the KY Pitch collegiate competition.
Vote here by midnight tonight for sophomore Castor Grande's pitch video, which is up for a $1,000 Hustle Award. As part of the competition, his startup team at DXD Labs is promoting a stimulant-free, pre-workout supplement called PUMP.
The center also asks for folks to cheer on the team Saturday in the final round of competition as they pitch their product before a panel of judges at Base 249 in downtown Lexington — doors open at 8:30 a.m., and kickoff is at 9.
"Castor is part of the Entrepreneurial Young Professionals program, and it has been inspiring to see him pursue his startup business," director Jeni Al Bahrani said. "I am happy that the Center for Entrepreneurship is providing him and other students support to pursue these opportunities."
The DXD team also includes Grande's twin brother, Pollux, and three others. Fellow Transylvania student Nolan O'Connor '24 composed the music for the video and Chauncey Longman '22 shot the drone footage.
Grande, who is CEO of the startup, is studying business and accounting while participating in ROTC.
Involvement in KY Pitch has helped him and his team discover and then fix gaps in the business model, he said. "We have also been able to better define the problem we solve and how our solution is better than competitors. If anything, the process has only increased our confidence and faith in our product and the cause we are promoting with our company's name and motto: Driven by Discipline (DXD)."
Grande also said the Center for Entrepreneurship has provided him with mentorship and connections that have helped him both as a business owner and student. "In the short time the center has been open at Transy, I have gained so much."
Next month, the center is sponsoring a Green Pitch Competition for students on campus — it's part of a series of events that take advantage of Lexington's thriving business community.
---
Pictured are (l-r) Sean Gallagher (EKU), Al Bahrani, Grande and Ryan Gallagher (EKU). Also on the DXD team but not pictured are Pollux Grande (UK) and Nate Louk (La Salle).