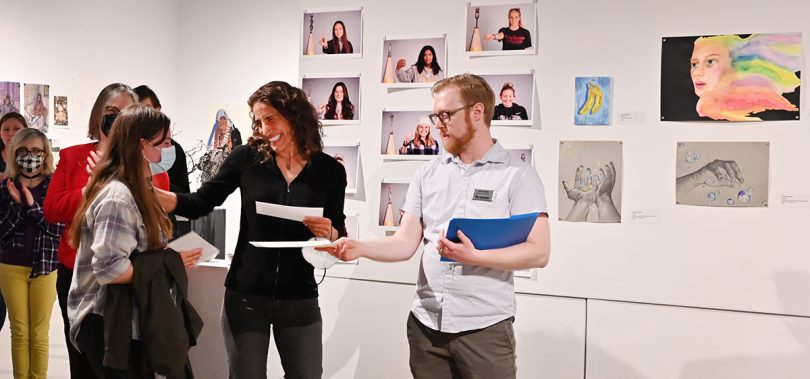 Transylvania University recognized talented Pioneers in this year's Juried Student Art Show during a reception and awards presentation Thursday in Morlan Gallery.
Featuring works by 95 artists, the annual exhibition showcased students of various majors in a wide range of media — from painting to ceramics to digital art. The show ran March 21 through Friday.
Honors included the Dean's Purchase Award, several "best of" categories and the Abbott Scholarship, which went to two juniors for demonstrating studio and scholarly excellence.
This year's winners
Best in Painting: Emily Millard
Best in Drawing: M'kiyah Baird
Best in Ceramics: Ally Frederick
Best in Printmaking: Anna Davis
Best in Digital Art: Kaelyn Chambers
Best in Sculpture: Megan Studer
Best in Show: Eph Page
Dean's Purchase Award: Brooke Holleran
Abbott Scholarship: Mattie Dunn and Cecile Tijou
Each year's Dean's Purchase Award winner goes into a permanent collection on campus.
"I am happy to continue this tradition with the inclusion of this outstanding artwork," Dean Rebecca Thomas said. "Brooke is clearly a talented artist, and I am pleased that an example of her hard work will remain at Transylvania."
Holleran won for an oil painting on canvas, "Forest."
"I am impressed by how her painting exhibits control of the medium, balancing between realism and impressionism," Thomas continued. "It is clear that she displays a high level of craftsmanship as an artist."
Thomas also praised other artists in this year's show, saying she found it difficult to narrow down her choice to a single piece. "Many of the works were quite witty in conception and skilled in execution."