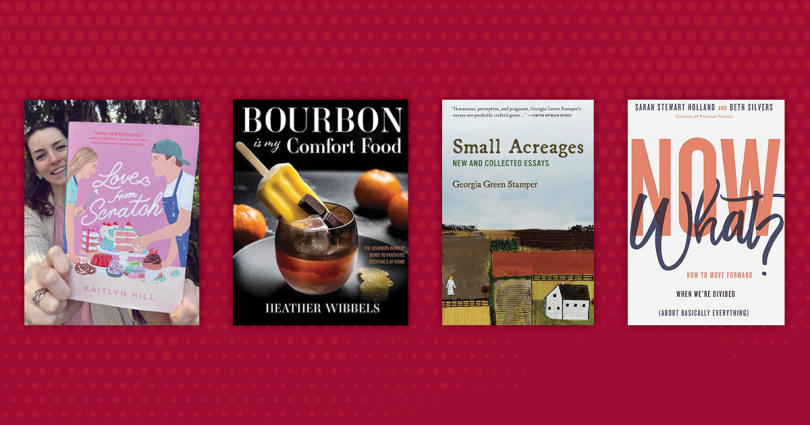 The literary output of Transylvania University graduates is in full bloom this spring with books coming out by at least five alumnae.
From bourbon recipes to romance, the works explore a variety of topics that showcase the talents and insights of these Pioneers.
Released earlier this month, a young adult rom-com by Kaitlyn Hill '16 titled "Love from Scratch" focuses on two interns for a popular online cooking channel who are competing for the same job and, of course, fall for each other.
The novel, published by Delacorte Press, is loosely based on the YouTube show "Bon Appétit Test Kitchen," which has two hosts with great chemistry, Hill said for a previous 1780 blog story. Watching them, she got to thinking: What if they were actually in love? "I just wanted to write a fun, fictional version of that. I really love watching cooking shows."
Hill will be a Lifelong Learning Session speaker as part of this year's Alumni Weekend on April 30. Get the details.
Another book out this spring is from 2003 graduates Sarah Stewart Holland and Beth Thurman Silvers of Pantsuit Politics podcast fame. "Now What?: How to Move Forward When We're Divided (About Basically Everything)" will be released May 3 by publisher Revell.
The book addresses key questions our day: "What do we do when our lives seem mired in conflict? How do we find connection when our differences are constantly on display and even exacerbated by algorithms and echo chambers? How do we move forward together when we're so far apart?"
Holland and Silvers a few years ago collaborated on another book, "I Think You're Wrong (But I'm Listening): A Guide to Grace-Filled Political Conversations." Read more in Transylvania's Third & Broadway magazine.
Also on tap next month is "Small Acreages: New and Collected Essays" by Georgia Green Stamper '67, a newspaper columnist and local NPR commentator. Due out May 17, this book completes a trilogy of connected essays told in [her] unique Kentucky voice," according to publisher Shadelandhouse Modern Press. Check out the Northern Kentucky Tribune story.
In "Small Acreages," you'll will find new essays and some of her most popular ones from earlier books. "Returning readers will not be disappointed as they reconnect with Stamper's unique world. New readers will delight in discovering this authentic Kentucky voice. Both will find her voice true as she weaves effortlessly between the lyrical to the vernacular, from sublime topics to the mundane."
Additionally, the book "Bourbon Is My Comfort Food" by Heather Wibbels '94 will be published May 3 by The University Press of Kentucky.
According to UPK, the book "reveals the delicious beauty of bourbon cocktails and the joy of creating them. Whether readers are new to bourbon or steeped in its history and myriad uses, they will gain the knowledge to make great bourbon cocktails, share them with friends and family and expand their whiskey horizons — because the only thing better than bourbon is sharing it with a friend."
Join Wibbles on May 18 for a book signing at Joseph-Beth Booksellers.
And find out more how Transylvania gives its Pioneers a way with words.