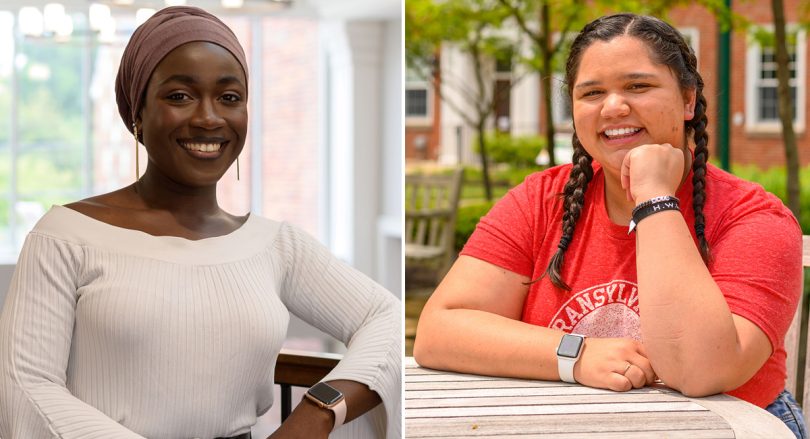 Two Transylvania University juniors have received Charles and Susan Shearer Scholarships providing full-tuition for their senior year of study.
The honor recognizes Shalomel Jatau and Elia Zonio for outstanding academic performance, leadership qualities, campus contributions and strength of character.
Jatau, from Jos, Nigeria, has taken a leadership roles on and off campus, including founding MISO (Multicultural & International Student Organization) and M&M (Mentors and Mentees) with eighth-grade girls at Lexington Traditional Magnet School. The neuroscience major with a self-designed minor in Black studies also served on the Student Government Association and as an admissions ambassador.
"Past recipients of this award inspired me to apply for this scholarship, and it is an honor to uphold this legacy," Jatau said. "It is a privilege to be recognized by the Transy community for my leadership abilities, and is one of the vast ways Transy has continued to empower me. It is my goal, before graduation, to continue serving my community."
Nominating faculty said she is one of the school's most extraordinary student leaders and is humble, open-minded, kind and intelligent.
Zonio, this year's other Shearer scholar, also was praised as a "true leader," who improves the quality of classroom conversation and shows enthusiasm for the ideas of others. Additionally, she's supportive and empathetic with a "unique way of encouraging others and drawing out their strengths."
The social change major (self-designed) from Lexington has served her fellow Pioneers as a resident adviser and member of the Student Activities Board and the Cru campus ministry. She also participates in the Transy and Race Working Group and is a research assistant for religion professor Leslie Ribovich.
"I am truly grateful to have found my place at a school where I am poured into both as a student and as a person," Zonio said. "I look forward to seeing what the rest of my time at Transylvania has in store."
The Shearer scholarship was established by the Transylvania Board of Trustees in honor of President Shearer and his wife after nearly three decades of dedication to the school. This merit-based award is available for rising seniors with at least a 3.5 cumulative grade point average and in good standing.
---
Above photo: Shalomel Jatau (left) and Elia Zonio (right)