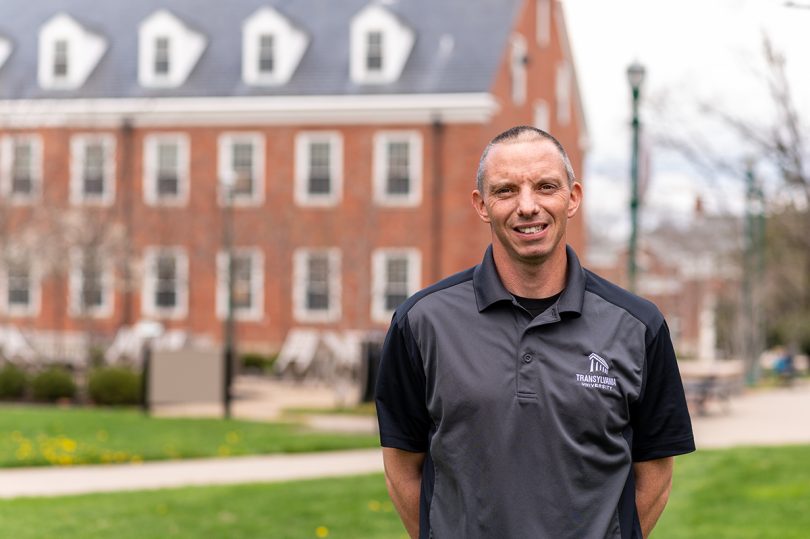 A national industry group has recognized Transylvania University's grounds manager for his expertise in the field.
Eric Harshman recently was named the 188th Certified Grounds Manager by the Professional Grounds Management Society. For the past 16 years, he's been maintaining and beautifying the outside spaces of a variety of institutions — from baseball stadiums to college campuses.
He began at Transylvania this past fall after serving six years as the grounds superintendent at Berea College. Harshman also tended sports fields for the University of Kentucky, Louisiana State University, Lexington Legends and Louisville Bats.
After getting his start taking care of golf courses, Harshman earned a turf management certificate from Rutgers University. The Fort Wayne, Indiana, native also graduated from Indiana Tech University.
Now he's putting his skills and years of experience toward maintaining Transylvania's urban campus. "We're right in the heart of downtown Lexington, and I think that's pretty unique," Harshman said. He also noted the "nice focal points" around campus, including the leafy Alumni Plaza and flower "T" in Carpenter Circle — the begonias for the "T" will be planted around the beginning of May.
As for what else is on tap for campus landscaping: "I definitely plan on getting some more trees back in the ground," Harshman said. This includes replacing a red maple that recently toppled in Carpenter Circle and a white pine that was damaged and had to be removed from near Alumni Plaza.
Also in the works are fertilizer injections into the ground around the Kissing Tree and work on the stately oaks flanking Old Morrison.
Other improvements will include replacing some mulched areas with plants and aerating the grass in Back Circle to relieve compaction.
Harshman also praised his grounds crew, who are more than just people out there mowing the grass — for instance, one owns his own business and another is a master carpenter. These professionals put a lot of painstaking time and effort into maintaining the appearance of campus.
"It's a labor of love," said Harshman, who two years ago was named a Proven Winners Certified Landscape Professional. "I couldn't see doing anything else with my life."
Married with three kids, he coaches his two daughters in track and cross country — and his 5-year-old son likes to work outside next to his dad. "He thinks I have the coolest job on the planet," Harshman said.