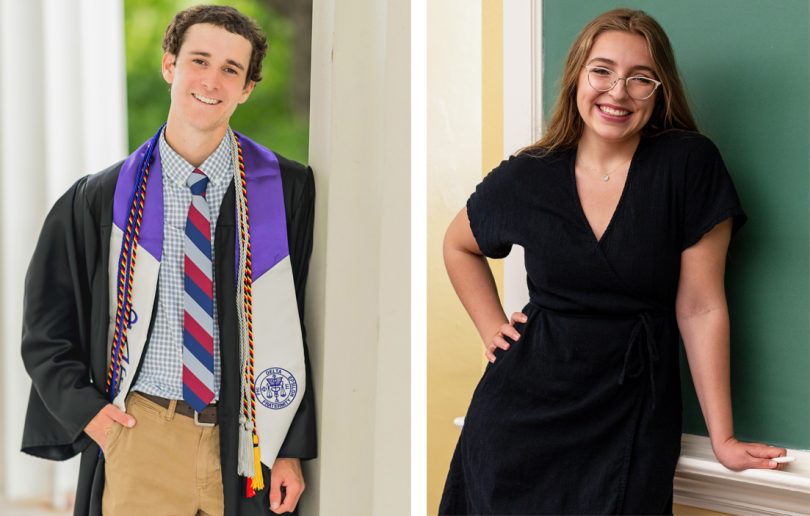 Two members of Transylvania University's Class of 2021 have received competitive Fulbright grants to teach and study abroad.
Jacob Burnam will teach in Germany and Hayle Hall is headed to study in Taiwan. The U.S. State Department sponsors the program to foster mutual understanding internationally.
Burnam, a German Studies major from Louisville, said the experience of being an English teaching assistant will help him embrace his future role as a physician-educator. "The past and future of medicine is education — the relay of the torch from the old guard to the new guard, an unbroken chain of knowledge that has been passed down as long as the medical profession has existed. I am determined to perfect my teaching skills so that I can make a meaningful contribution to this medical tradition."
Also, he thanked German professor Matthew Bauman along with his track track and field teammates and coaches Sean McNulty and Emily Maxwell. "They have always had my back, and I am so glad that this award can, in some way, validate all the hard work and sacrifices of the last handful of years."
As for Hall, her Fulbright will go toward studying international communication in a master's program at National Chengchi University in Taipei.
"This program perfectly unites all of my academic and professional interests that I developed at Transylvania and will prepare me for a future career in international education and diplomacy," she said. Her ultimate goal is to work for the U.S. Department of State, specifically its Bureau of Education and Cultural Affairs or an organization like the Council on Foreign Relations, "to help cultivate intercultural knowledge and understanding between the U.S. and the Asia-Pacific region."
Hall, who's from Prestonsburg and Versailles, Kentucky, majored in education and social change as well as writing, rhetoric and communication and minored in Chinese.
She said she's grateful for those at who supported her as an undergraduate. "I am so inspired and thankful for the continuous guidance I have received from my amazing professors and mentors at Transylvania."
Hall has also received a State Department Critical Language Scholarship and won the Juhe Chinese Composition Competition.