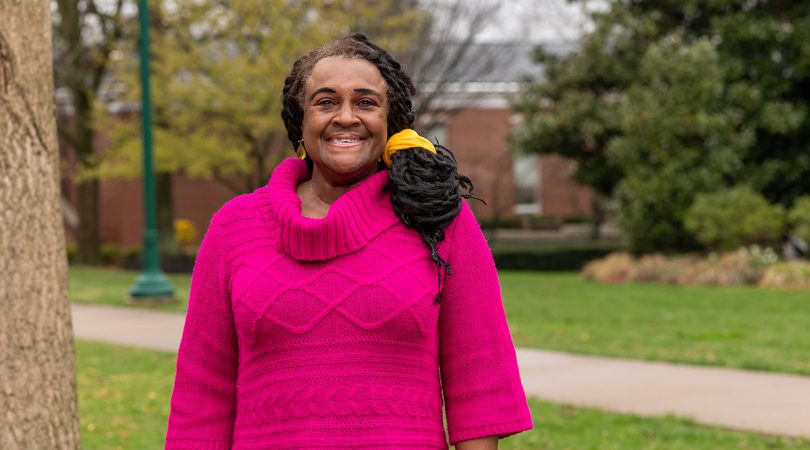 When Lisa Blythe Stuckey was a Transylvania University student back in the late '70s, she'd look forward to sinking into a comfortable leather chair behind an ornate, oak desk and phoning up alumni.
Stuckey, who graduated in 1980, was a Phonathon caller as work-study student in the alumni and development office (back when it was in the historic Old Morrison administration building). Not only did she find this preferable to filing paperwork, but she was in fact elated: "I couldn't wait to get to the phone," she said. "I looked over my list and got to work immediately."
Alumni still receive Phonathon calls from students, and the donations they pledge go to support Pioneers through The Transylvania Fund. This year callers will wrap up by the end of May term and resume in October.
"It warms my heart to receive a call from a student because of those fond memories," Stuckey said. "When the phone rings now at my home and it's a Transy student requesting a donation, I always agree to that donation."
The current Pioneers who phone her listen with interest as she recollects her time at Transylvania. "It appears that some traditions never lose their fervor," she said. "I greatly value my time with these students, for they are our future. They help me to make a connection to the pledge and donation program. At times I choose to make pledges that stretch over a period of years, or I simply make a one-time donation for that current year."
When Stuckey was a student on the other end of the line, speaking in her best telephone voice, she was especially delighted to get to know alumni living far away. "I would chat with them about where they lived and how long they had resided there," she said. Stuckey would also fill them in on changes around campus, and they'd get to laughing and joking around, sometimes at length. "I didn't always reach my quota for the day because I spent a little extra time just talking amicably. I would have rather talked with the potential donors than any other part of my job as a work-study student."
Elsewhere on campus Stuckey, an elementary education major, was a Transylvania Choral Union member and volunteered to sew costumes for the theater department.
Now she serves on the university's Board of Regents and Alumni Board and supervises student teachers. "I am devoted to these positions, for they keep me connected to my alma mater and I'm paying it forward," she said.
For more information on Transylvania's Phonathon, contact Danielle Evans-Clan '17, associate director of donor engagement.