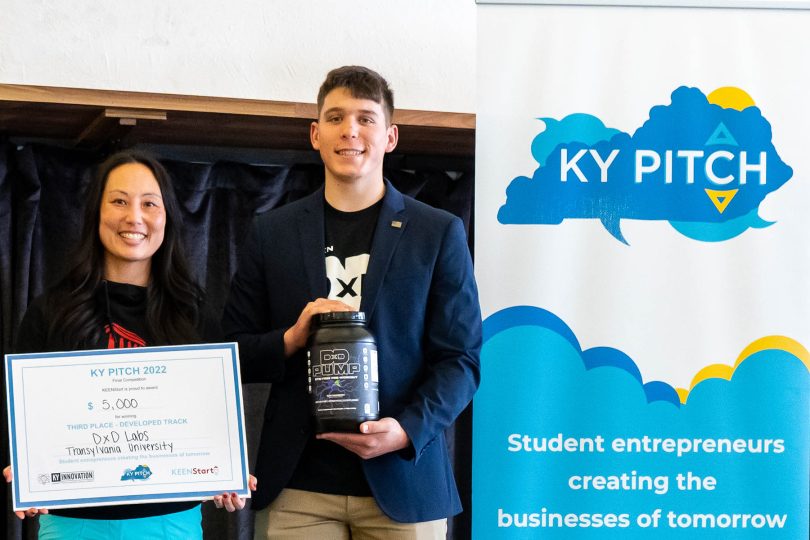 On April 15, the first team ever from Transylvania University competed in KY Pitch, Kentucky's largest intercollegiate pitch competition for aspiring entrepreneurs. Led by sophomore Castor Grande, the Transy team ended up third in the final standings, winning $5,000, as well as fourth in the vote-based Hustle Award out of 14 finalists.
Transylvania Center for Entrepreneurship director Jeni Al Bahrani sat down with Grande for a Q&A following the competition and shared the conversation with 1780.
Q: Can you tell us a little about your business?
I own a dietary supplement business called DXD Labs that I started here in Lexington back in January 2021. Fitness is my passion, which is what got me into supplements. But, over time, I realized there was a big problem in the industry — lack of transparency. I set out to solve it. My company now sells a caffeine-free pre-workout called DXD PUMP. We created a product that is safe and effective. That is hard to find. Now you can know what you are putting in your body and what it does, as well as get a great pump during your workout so you leave feeling accomplished.
Q: What did the pitch preparation teach you as a CEO of your company?
It allowed me to better define my business model and fill in the gaps where they were. It also allowed me to learn the business language that I lacked, having started the business on my own with no formal training yet. It taught me how to tell a story of the problem I encountered and how I solved it. Finally, it gave me more faith in my product and team to succeed.
Q: What was the biggest challenge to competing in the KY Pitch?
The biggest challenge in competing in KY Pitch was time management. I am generally very good at planning and staying organized. But managing school, fitness, ROTC and other commitments left me stretched thin already, and adding in this competition for my business almost broke the line. My planning was very ambitious, and I ended up cutting it very close to deadlines, even after pulling all-nighters with little sleep.
Q: How did Transy's Center for Entrepreneurship help you?
Transy's Center, and specifically Mrs. Al Bahrani, the director, helped me to stay on track as well as provide new ways of thinking about things. She explained new concepts to me that I had not seen before. She also spent time organizing meetings with other people to get feedback as well as practice my pitching skills.
Q: What's your advice for students at Transy who are interested in entrepreneurship?
Get involved — with the Center for Entrepreneurship, with other students, in Lexington, at Awesome Inc. And, if you are thinking about starting a business, just do it! There is no reason to wait as we have many resources here on campus. And feel free to reach out to me to chat about my experience or the Center for Entrepreneurship.
Q: What are you going to do next?
Work on defining the roles and responsibilities of my team members to be more efficient and effective. Our full product launch this month has been a success, and we are going to be setting up infrastructure to prepare for rapid growth in months to follow. We also plan on releasing some branded women's apparel in the near future.