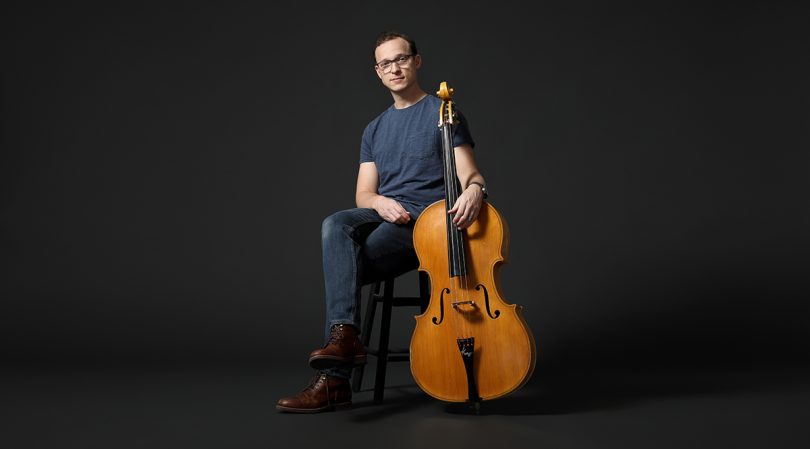 Transylvania University welcomes Lexington native Ben Sollee, an acclaimed cellist and singer-songwriter, for the 2022 Dorothy J. and Fred K. Smith Endowed Concert on April 28.
The public is invited to the free event at 7 p.m. in Haggin Auditorium. Register here for tickets to attend in person or watch online.
In addition to performing the annual Smith Concert, Sollee is the featured guest in this year's Delcamp visiting artist series. He will meet with Transylvania music and art students and lead classes and workshops the day after the concert.
The show will be the first time he's performed with his string band, Kentucky Native, since 2018. They'll be joined by musician Genaro Rascon Jr. for a bluegrass-mariachi diversion.
Sollee, who performed at Transylvania in 2014, has ties to the school that go back decades. He remembers walking around campus when his family lived nearby, and he taught at the Governor's School or the Arts when the university hosted the program.
"I'm excited to come back," he said, adding that college is a special time in people's lives. From ideas to food to friends, when you're in college you're sampling many different things. "There's a lot of fertile ground for interacting and creative moments."
Sollee himself is a multifaceted creative, blurring the lines between music, tech and activism, according to his bio. A graduate of the University of Louisville School of Music, he has a BFA in cello performance.
His works, which include six studio records and numerous EPs, have received praise from publications like The New York Times and National Public Radio. Additionally, his music has been featured on TV shows including "Weeds" and "Parenthood." Sollee also won an Emmy Award in 2018 for a score he composed for the ABC special "Base Ballet."
Also known for his environmental and social advocacy, Sollee works with organizations such as Oxfam America, The Nature Conservancy and Canopy KY. He lives in Louisville, Kentucky, with his wife and three children.
As with all of his shows, any concertgoer who walks, bikes or takes public transit to the performance will receive $5 off items at the merchandise table.
---
(Photo by Jessica Ebelhar)