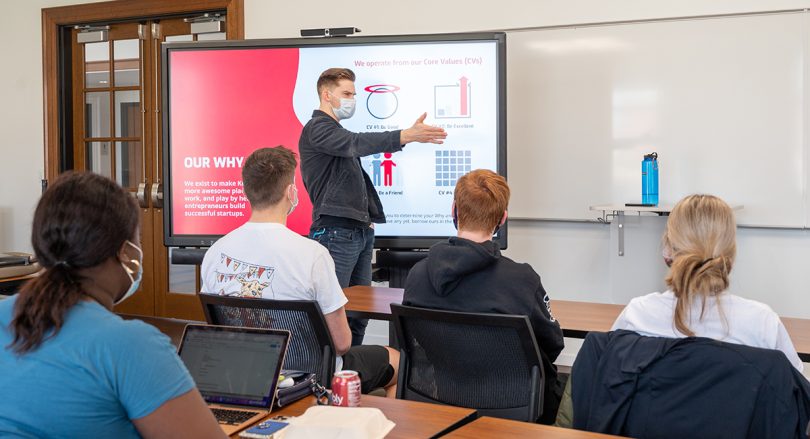 Transylvania University's new Center for Entrepreneurship has announced a series of upcoming events that will help students take advantage of Lexington's thriving business community.
From a pitch competition to mentorship, the programming on tap for the rest of this academic year includes a variety of learning opportunities for Pioneers of all majors.
"With access to our urban core, we plan to collaborate with key partners in the entrepreneurship ecosystem," said Jeni Al Bahrani, director of the Center for Entrepreneurship. The CFE is collaborating with Awesome Inc on speaker sessions (pictured) and the pitch competition for students. Awesome Inc is a local group that fosters high-tech startups, hosts community events, leads technology education courses and offers businesses a shared workspace.
The CFE also recently started an Entrepreneurial Young Professionals program, which benefits from the guidance of Al Bahrani and local business leaders. It's open to all Transylvania students looking for mentorship and networking opportunities and meets Tuesdays from 12:20-1:15 p.m. in the Campus Center, Room 115.
Al Bahrani also is available to meet with students individually through appointments or drop-in visits. They can learn more about the center, as well as how to develop an entrepreneurial mindset and start and grow a business. She'll also help those who are simply curious about entrepreneurship discover how it relates to their passions and interests.
The Entrepreneurial Young Professionals speaker lineup continues March 29 with a visit from Awesome Inc's Team Alpha. Then on April 5, Terry Samuel, president of the Kentucky Science and Technology Corporation, will talk about STEM-related internship opportunities.
Other speakers include Joy Nuts owner Jacquelyn Cunningham, who on April 26 will tell the story of how she started a business around a family recipe. Also, Keith McMunn from Awesome Inc will discuss funding models May 3, and students will learn about branding May 19 when they meet with Country Boy Brewing's Daniel Harrison.
Additionally, students will square off in the Center for Entrepreneurship Green Pitch Competition on May 12.
Stay tuned for updates, including new events added to the schedule.