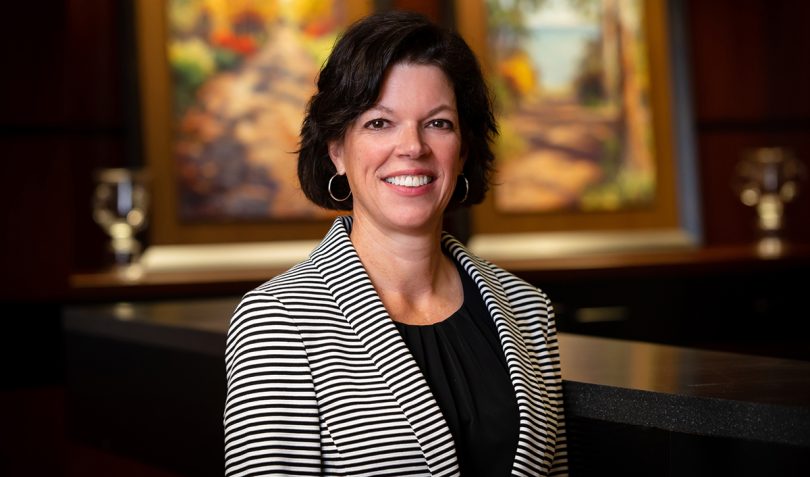 Carmel Jones '93, who developed an interest in business as an undergraduate at Transylvania University, has been appointed president of the CHI Saint Joseph Medical Group.
It was an accounting class taught by former professor Judy Jones that helped her along the path that eventually led to her new leadership role. The enthusiasm she discovered through this course grew as she decided to minor and then major in business with a focus in accounting (she ended up minoring in history). "Though my journey at Transy took a direction I wasn't expecting, my degree has served me well," Carmel Jones said. "I'm blessed to have received such a balanced liberal arts education in a rigorous academic environment."
Transylvania continues to develop new programs for students who want to pursue similar paths of excellence in the fields of health care and business.
A native of London, Kentucky, Jones went on to become a CPA and then earn an MBA with an emphasis in health care.
She started at the old Marymount Hospital, which became Saint Joseph London. Her various leadership roles in finance and health care include serving as chief operating officer and market vice president of operations for CHI Saint Joseph Medical Group, which is CHI Saint Joseph Health's employed provider network with 88 Kentucky locations.
"Carmel's list of accomplishments is long, including playing a key role in the growth of a high performing physician enterprise to ensure our communities and patients have access to high quality physicians and advanced practice providers across CHI Saint Joseph Health," CEO Anthony Houston said. "We look forward to her continued leadership as our ministry grows to serve Kentucky."
When the news was announced, Jones said, "I am honored to lead such a wonderful team and am excited about expanding my role beyond operations to focus on strategic initiatives, growth and partnerships with health care providers within the communities we serve. One focus will be expanding access to quality care even further, particularly through primary care providers within our Medical Group."
(Photo: Mahan Multimedia)