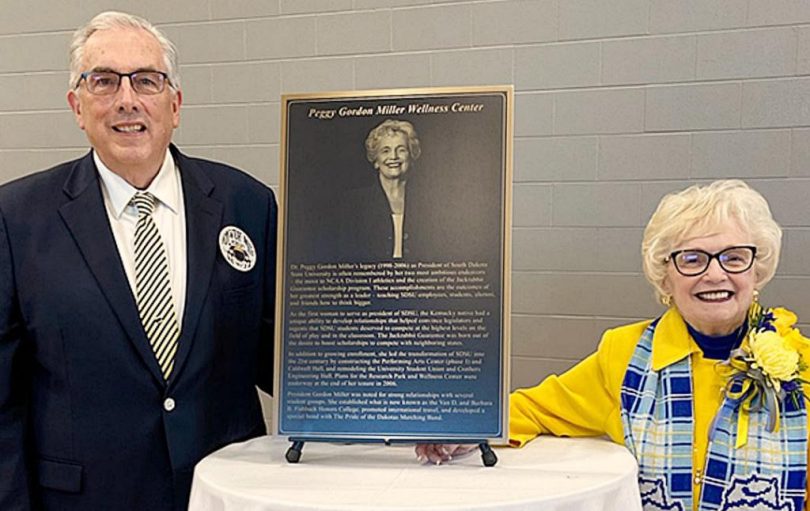 South Dakota State University has named its wellness center after a Transylvania alumna who served as SDSU's first female president from 1998-2006.
Peggy Gordon Miller '59, a Transylvania English major who returned to her alma mater in 1993 to give a commencement address, was honored during a naming ceremony at the facility in Brookings, South Dakota.
After graduating from Transylvania, Miller earned a master's degree from Northwestern University and an Ed.D. from Indiana University. She then served on the Transylvania Alumni Board and in 2009 was honored with a Distinguished Achievement Award. Miller received an honorary degree at the 1993 commencement as well.
Before her time at SDSU, she was president of the University of Akron and chancellor of Indiana University Northwest.
South Dakota State said the Miller Wellness Center's mission "aligns perfectly with the ambitious endeavors introduced by Miller at State during her time as president. She was instrumental in the university's move to NCAA Division I athletics and tirelessly advocated for the creation of the Jackrabbit Guarantee scholarship program." Read the full release.
The center features fitness equipment and is home to various sports programs, wellness education, counseling services and a student health clinic.
"Tens of thousands of students will walk by the plaque at the entrance to this facility and learn about the strong leadership of the first woman to lead South Dakota State University," President Barry Dunn said during the naming ceremony. "Jackrabbits have gone further because of the decisions President Emerita Peggy Gordon Miller made and the battles she won during her tenure."
Her leadership was evident as an undergraduate at Transylvania. She was named an Outstanding Freshman, won the Lydia Todhunter Memorial Cup the next year and served as president of the International Relations Club. Miller also worked in the registrar's office, was a Crimson Beauty and Mountain Laurel representative and joined Lampas and Chi Omega.