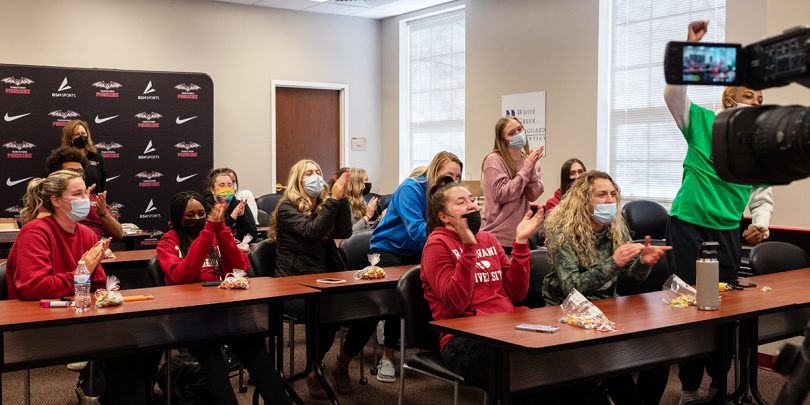 Ranked No. 2 in the nation, the Transylvania University women's basketball team will host Washington & Jefferson College in the first round of the NCAA tournament Friday.
The Pioneers won their fourth straight Heartland Collegiate Athletic Conference Tournament this past weekend after a historic 24-0 season.
Monday's selection show announcer Brenden Gulick said Transylvania is "battle tested and ready for a deep run" in the NCAA tournament.
Referring to Friday's matchup, D3sports.com broadcast director Dave McHugh said: "The Beck Center could be rocking for this one. [Head coach] Juli Fulks has made a huge impact on this program and it shows."
Check out the NCAA tournament bracket.
The Lexington Herald-Leader talked with Fulks after Saturday's win against Anderson. "It's kind of a mixture of awe and excitement and (being) grateful for a group that has pushed as hard as they have through two really hard years to get to this point," she said, holding the net from the postgame celebration.
Fulks also noted how first-year players are getting good experience this season, which bodes well for the future. "In all these games we get a lot of players in. So the end of that game is all of our freshmen who will play roles in a few weeks, but in a year, two years, who knows, they're the next ones up," she said. "We're trying to make sure every game they are getting experience and going to be ready when it's their turn … Kind of always building that next team culture."
The Herald-Leader called the Pioneers "the most consistent basketball team in Central Kentucky," in the context of recent history. The program has a 90-12 overall record since 2018, reaching the NCAA Sweet 16 in 2019. Also: "Transy has not lost at home to an HCAC opponent since Dec. 9, 2017."
The Pioneers looked happy after Saturday's big win:
Visit transysports.com for more details.