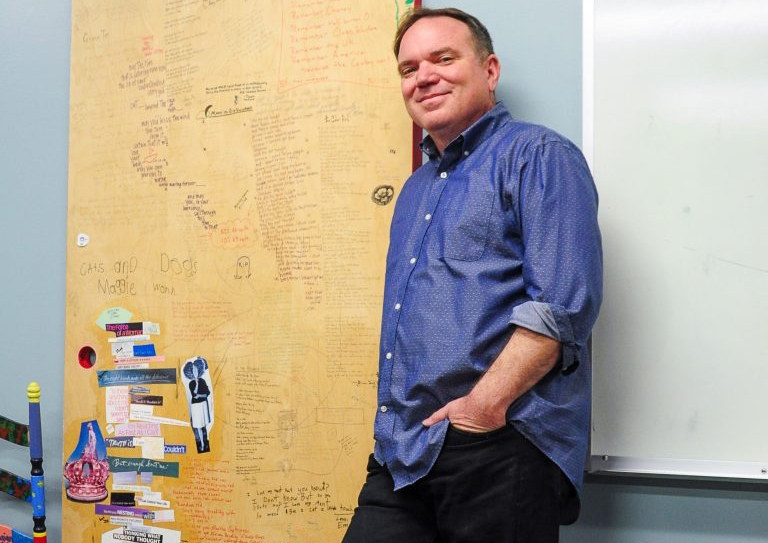 Transylvania University professor Scott Whiddon, who earned this year's Southeastern Writing Center Association Achievement Award, is featured in a recent Q&A with the Small Liberal Arts Colleges-Writing Program Administrators.
In the interview, Transylvania's Writing Center director talks about what he's proud of and what's new with the program, which is staffed by 20-30 students in a variety of majors helping peers improve their writing. The center collaborates with programs across campus — from Digital Liberal Arts to the Pre-Health Career Workshop Series.
Whiddon in particular pointed to his colleagues' growing enthusiasm for course-embedded assistance for students. "I'm quite excited by the recent faculty interest in the ways that Writing Center work can be more deeply connected to specific classes and course goals," he said. After getting additional training, course-embedded staffers serve students in a single course section.
Another new development — this one in response to the pandemic — is online writing assistance. "Our program had to quickly learn how the skills we practice every day as collaborators, active listeners and creative thinkers could transition to online environments; we also had to learn to recognize, both in our patrons and in ourselves, the ever-changing challenges of learning in this moment," Whiddon said.
Writing Center staffers have also been developing themselves as researchers as they present work at various conferences and other events.
And they're being honored for their efforts. "We've been lucky to have two staffers recognized with Southeastern Writing Center Association Undergraduate Tutor Awards, and multiple staffers have won SWCA Christine Cozzens Research and Initiative Grants/Awards," Whiddon said.
"They're some of the best folks I know, indeed."