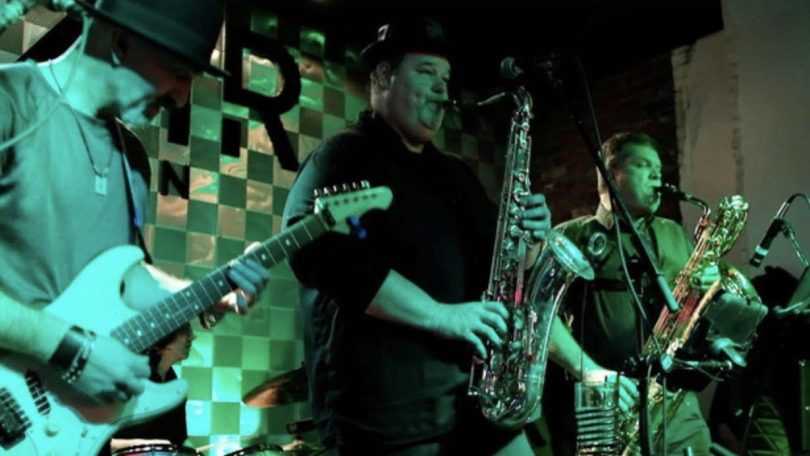 Matthew Polashek, a saxophone instructor and jazz ensemble director at Transylvania University, was recently profiled in the Jessamine Journal after receiving Lexington Music Awards honors.
He was named brass-wind player of the year, and his band Bigg Sugg and the Jazz Funkers was recognized as Artist of the Year in the Jazz, Latin, Big Band and World category. The band also was nominated for an Appalachian Arts and Entertainment Award.
Polashek, whose brother Timothy is a Transylvania professor, said he has a passion for helping people make connections through music. The Nicholasville resident also told the Jessamine Journal, "I feel like the best musicians are people that have something to get out. I have had a lot of things in my life that I need to get out and music is my catharsis."
After moving to Kentucky from New York City, Matthew Polashek joined the band Funkabilly. Then he worked as a sound engineer and production manager at Manchester Music Hall. "I was still collaborating with my brother and my live event production company, Angry Baby Productions, was growing, which was nice for the money. But I missed playing jazz-funk, which feels like home to me," he said.
After the pandemic hit, he found some success in pivoting his company into streaming and video production, "but I reached an epiphany, as many people have, that I wanted to focus on pursuing my passion," he said.
Read more in the Jessamine Journal article.
On tap for Polashek is the Transylvania Composers Concert on March 1 at 7 p.m. in Carrick Theater, where he will perform two of his brother's compositions (they often collaborate). The show also will feature music by professors Larry Barnes and Gregory Partain and staff accompanist Barbara Rogers.
Then the brothers will perform a co-written piece at the Society for Electro-Acoustic Music in the United States national conference in Michigan on April 2. Transylvania junior Tammy Ray will also participate in the festival.
(Photo: Estill Robinson)