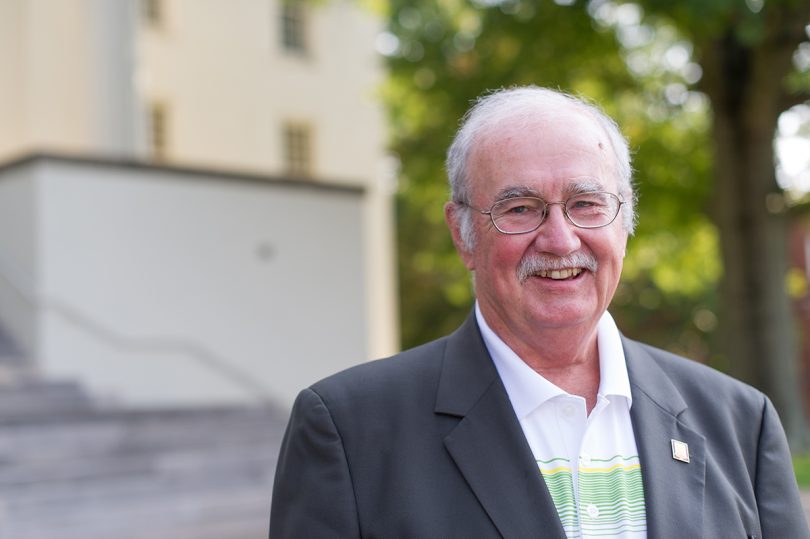 Billy Reed, a legendary Kentucky sports writer and 1966 Transylvania University alumnus, died Saturday after a long illness. He was 78.
The Hall of Fame journalist wrote for the state's two largest daily newspapers and Sports Illustrated, often covering big events like the Kentucky Derby and NCAA championships and helping us get to know renowned athletes such as Muhammad Ali.
While at Transylvania, the Mount Sterling native covered games for the Lexington Herald-Leader and wrote for both the Crimson yearbook and The Rambler student newspaper. Reed said he was a "big believer" in the liberal arts — that a broad education can, for instance, help sports writers come up with good literary and historical allusions.
Reed also served in Transylvania's 100 Doors to Success mentorship program.
His latest book, "Last of a BReed," celebrates the golden era of sports journalism. In it he recognizes the influence Transylvania coaching legend C.M. Newton had on his life. "I'll always remember him saying: 'Billy, winning is not important unless it's done the right way,'" Reed said for a 2019 Third & Broadway article. Reed was a manager under Newton for the Pioneers' men's basketball team.
According to the Herald-Leader, "Reed never shied away from controversial topics, nor did he hesitate to criticize popular sports figures when he deemed it necessary."
Mike Johnson, who was a sports editor at the H-L with Reed, said in the article that Reed was someone who "could make fans smile one day and infuriate them the next. During his time at the Herald-Leader and the Courier-Journal he was a must-read for fans in this state. Whether they loved him or hated him at the time, they wanted to know what Billy had to say."
Reed was inducted into the Pioneer Hall of Fame in 1996. He also earned memberships into the U.S. Basketball Writers, Kentucky Journalism and Kentucky Athletic hall of fames, according to the Northern Kentucky Tribune. Additionally, he was named Kentucky Sports Writer of the Year eight times and won the Eclipse Award twice.
"Billy was more than a wonderful writer and reporter and storyteller," former Sports Illustrated writer Curry Kirkpatrick told the H-L. "He was a valued friend and colleague but also a teacher — about journalism, basketball, the horses, racing and most of all, Kentucky."
The Northern Kentucky Tribune notes there will be a celebration of Reed's life, but the date hasn't been announced yet — it may be around Derby time.