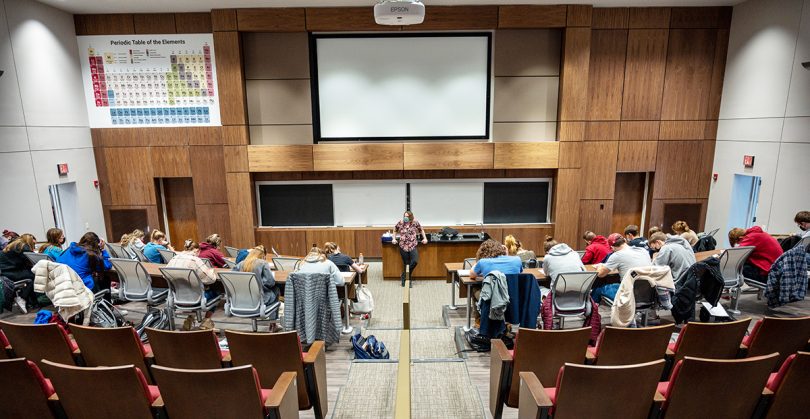 Transylvania University has renovated its Strickland Auditorium in Brown Science Center to make it more technologically up to date and visually appealing with plenty of natural light and warm wood tones.
The improvements were made possible through the efforts of James Wagner, a biology professor and chair of the Division of Natural Sciences and Mathematics, and a generous donation from the late Dr. Harold Faulconer '54 and Rebecca Faulconer.
Renovations included new seating to replace old-style chairs with small writing surfaces attached, and the front wall is now adorned with wood and updated whiteboards — even the iconic periodic table got a refresh with one of the rows changed to the school color of crimson. Also, the first two rows of seats were eliminated, and two tables with outlets for students to power their devices were installed at the front of the auditorium.
One of the more striking improvements is the removal of the back wall and installation of glass display cases backlit by natural light — they eventually will show off items from the school's Monroe Moosnick Medical and Science Museum. This is especially fitting because Faulconer also provided support to have some of the museum's rare mounted bird specimens restored. He was touched by his experience at Transylvania and wanted to have an impact on student learning, Wagner said.
As for the area between the new display cases and the outside windows, this long-ago smoking lobby (before it became a "weird, dead space") has been widened into a classroom with automatic curtains to separate the area from the auditorium if necessary, Wagner said. "We gained a classroom out of this renovation, which is exciting."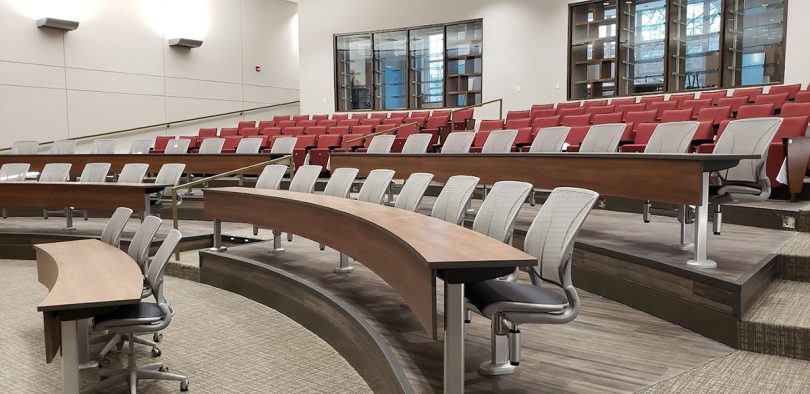 Also, plans are in the works for Strickland to be outfitted with a camera system for professors — from a variety of disciplines, not just science — to easily put their presentations online, which, of course, can come in handy these days. It's a good room for events like guest lectures, too. "I'm sure it's going to become a popular venue for lots of different talks," Wagner said.
He worked with the local RossTarrant Architects for the auditorium renovations; the firm has done projects in BSC before, including a lobby refresh.
Dean Rebecca Thomas is enthusiastic about the recent improvements. "The newly renovated Strickland Auditorium will be both a beautiful showpiece for our campus and an updated teaching space with state-of-the-art technology," she said, also noting how traditional features like blackboards and equipment for scientific demonstrations will support all kinds of teaching and learning.
Plus: "The addition of a new, expanded room behind the auditorium gives us a flexible space for classes, individual or group study and the opportunity to peruse objects from our Moosnick Museum collection," Thomas said. "Both of these spaces will be excellent resources for our campus community."