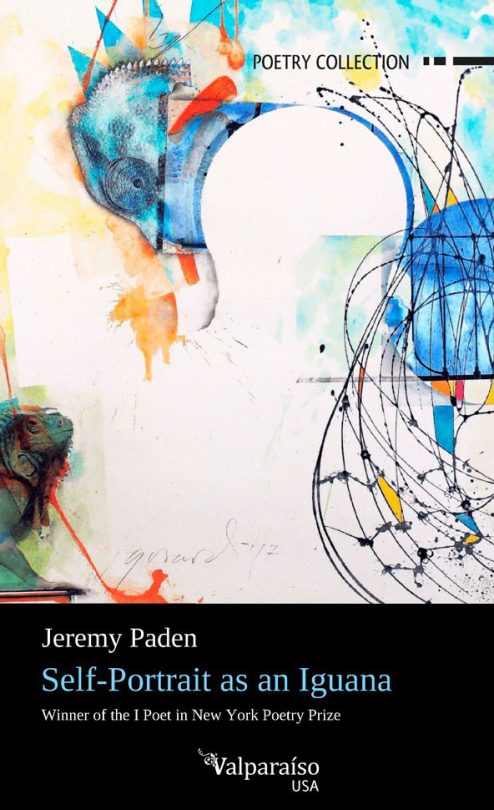 Professors at liberal arts colleges like Transylvania often find inspiration from each other's work across the disciplines — in this case it's a drawing of an iguana.
Transylvania Spanish professor Jeremy Paden's award winning poetry collection "Self-Portrait as an Iguana" features cover art by professor Jack Girard — a lizard confronting what Girard calls "a Spanish sailing vessel's masthead crafted in the form of a fantastic sea creature."
Paden said he was drawn to the work when he saw it at its first exhibition four years ago (it reminded him of Michelangelo's "Creation of Adam"). He later bought the piece.
When Paden was finishing the manuscript that would lead to the book, he had the basic structure in mind: "It was largely going to be a series of playful and less-than-confessional self-portraits," Paden said. "I had a number of such poems already written: 'Self-Portrait as a Pair of Shoes,' which plays with a misreading that Heidegger does of a van Gogh painting; 'Self-Portrait as a Maple in Autumn,' which is about climate change and the thought that maples will disappear from places like Kentucky over the next several decades because of the rising temperature and lose their bright colors because of changes in rainfall patterns; 'Self-Portrait as a Husband Doing the Dishes,' etc. It wasn't, though, until I came back to Girard's painting and ended up writing three 'Self-Portraits as an Iguana' that I felt that the collection was complete."
Released this past fall by Valparaíso USA, the book co-won the first Poet in New York Prize for works written in Spanish by U.S. residents. (The poems are in English and Spanish.)
"Jeremy has produced a real gem of a book," Girard said. "I do believe that we have both found the iguana to be a rather quixotic and enigmatic creature — a potent metaphor for a host of life experiences and aspirations. In this respect, I believe our works are very well suited."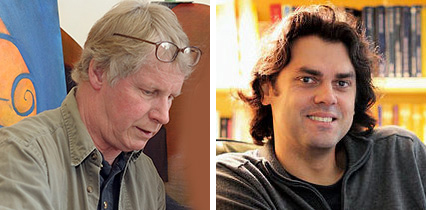 His "Iguana" collage in acrylic and pencil followed a research visit to Spain and Portugal to develop collaborative articles with Transylvania Spanish professor Veronica Dean-Thacker on the art and poetry of Juan Carlos Mestre and Alexandra Dominguez, who also came to Transylvania in 2015.
"While I am never completely certain about the true motivations and meanings behind my work, I believe the vessel directly reflects hours of reviewing the etchings and paintings of Mestre and Dominguez (Mestre frequently uses boat images in his work)," Girard said. "In more metaphorical terms, it is Spain. The confrontation in the drawing might be likened to our sharing of cultural traditions during those interviews."
Girard also said he "found the iguana aptly suited as a metaphor for 'self' — aging and ageless, weathered and worn, decked in armor with a soft underbelly, vulnerable and overwhelmed. The ship's construction reflects my exposure to Spanish tile and glass work, inseparable from the country's artistic and cultural traditions."