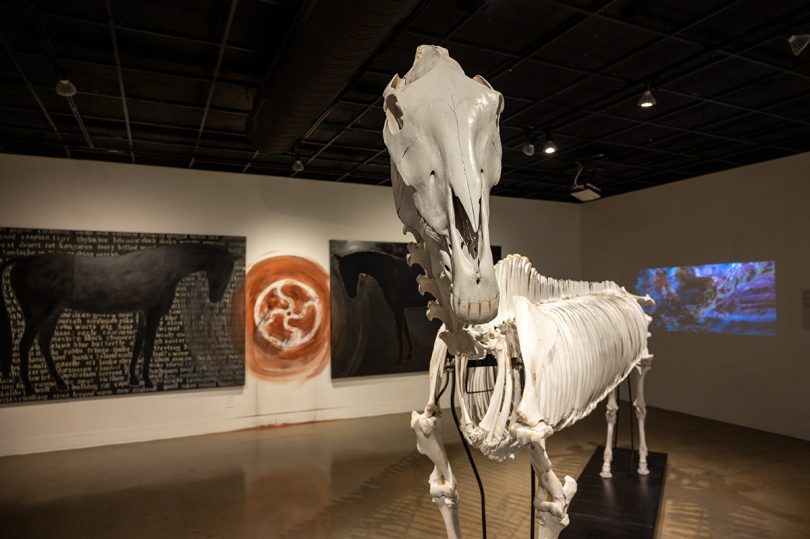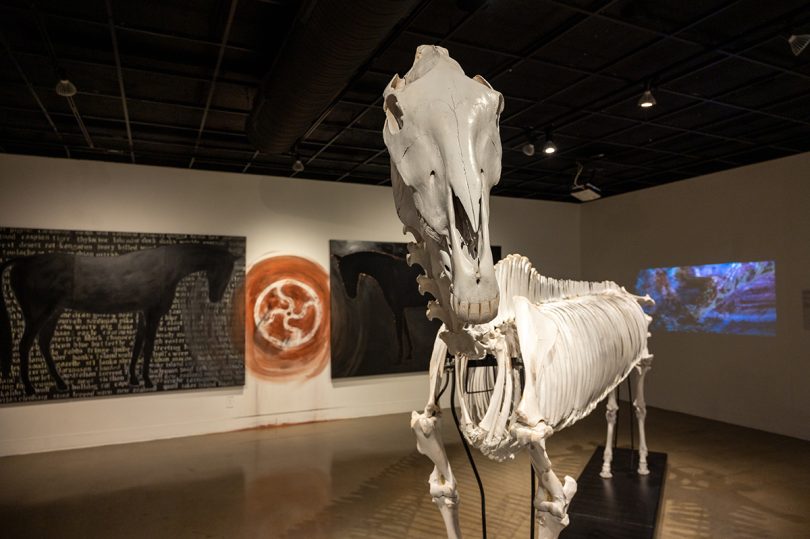 The new Morlan Gallery exhibition, "ECO:FLUX," looks at how changes brought about by human activities ripple out into the planet's ecosystems, which are necessary to all living things — including ourselves.
Featuring works from artists across the country, the free, public show on the campus of Transylvania University runs through Feb. 25 and includes pieces by two members of the school community.
Get the details on hours, parking and Healthy at Transy guidelines.
"The artists' works in the 'Eco:flux' exhibition focus on the ecology and change that is part of our lives," according to the gallery. Some of them explore specific issues that need immediate attention, while others "lay out future potentialities that exist on the cusp between science fact and science fiction."
Artists include: Catherine Chauvin, Louise Fisher, Anthony Mead, Rowe Moser, Emily Ritter, Marilee Salvator, Zoé Strecker, Lizzy Taber and Mariel Versluis.
Among the works on display are Transylvania art professor Strecker's "Breeder's Envy (Makrospondylitic Thoroughbred Skeleton Mount)," a sculpture of a Thoroughbred made of real bones stretching a fantastical 20 feet. "The Thoroughbred racehorse is an extremely specialized agricultural product of this particular place, a result of uniquely rich soil and centuries of intensive selective breeding practices," according to her artist's statement.
Mead, who is the gallery director, noted how through breeding animals we can tinker with the evolution of entire species, something that used to be up to natural selection. "In this way, the elongated skeletal structure of Zoé's horse is larger than life not only in its physicality in the gallery but also becomes emblematic of all creatures on this planet that are impacted by human expansion across the planet and the often careless way we make choices that change the lives of others."
Mead's work in the exhibition is his mural "Planting a garden with Prometheus; tree canopy growth pattern in idealized conditions washed with charcoal and earth," which looks at the "through-line between humans' long history using fire and climate change."
The piece (pictured below) explores how fire affected human evolution and the ways it appears in various forms today, including the internal combustion engines of our automobiles. "The warming of the planet and the climate change outcomes of that are directly linked to human origins as fire users," Mead said.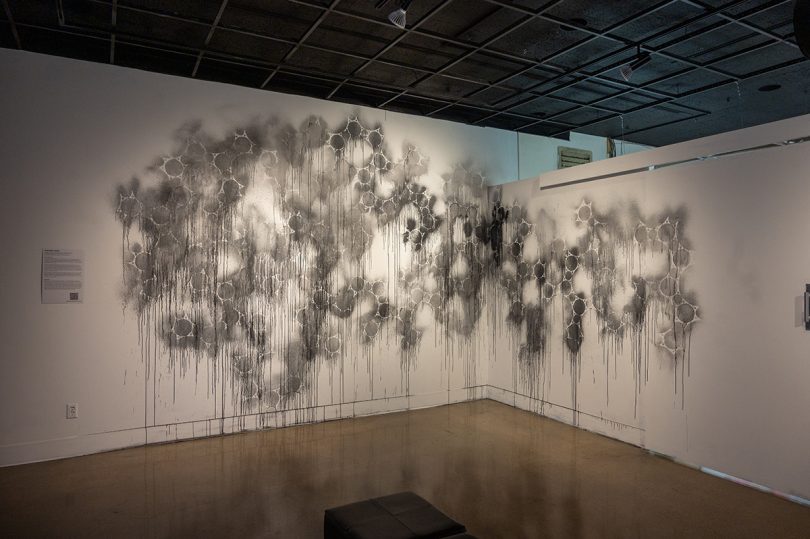 "The artwork is created with the techniques of printmaking and incorporates fundamental elements such as charcoal, graphite and soil — materials that transform and change identities through physical and material actions," he continued. "My heavy use of pattern is influenced by the repetitive forms or patterns found throughout human cultures and natural environments in everything from camouflage to spiritual ritual to cultural adornment."
Another artist in the exhibition, Western Kentucky University professor Marilee Salvator, will give a talk via Zoom (register here) on Feb. 17 from 6-7 p.m.