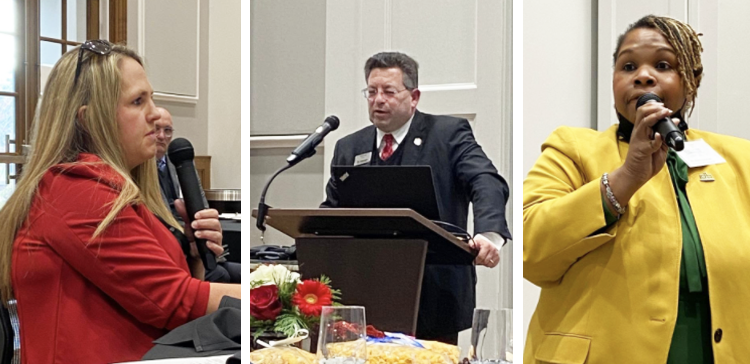 Transylvania University promoted collaboration between regional college and high school leaders by co-hosting a Christmas luncheon summit in the Campus Center last month.
It was the second meeting of these representatives from 11 higher educational institutions and 15 school districts — they plan to meet a few more times this year. Hosts of the event, co-sponsored by Traditional Bank and Blue & Co., also included the Bluegrass Higher Education Consortium and Central Kentucky Educational Cooperative.
According to a Bluegrass Tomorrow newsletter, participants discussed a range of topics, including wrapping up a directory to foster communication among presidents, superintendents, principals and guidance counselors; working to give high school students a better feel for higher ed and career opportunities; and addressing the region's teacher shortage.
During the event, Transylvania President Brien Lewis (pictured center) highlighted the school's off-campus partnerships. Specifically, he noted a new program in collaboration with Appalachian Regional Healthcare, which offers students scholarships and experiential learning opportunities like mentorships.
"We're looking for more individualized, customized partnerships with businesses and community partners to meet students and their ideas, where they are," Lewis said.
Photos: Bluegrass Tomorrow