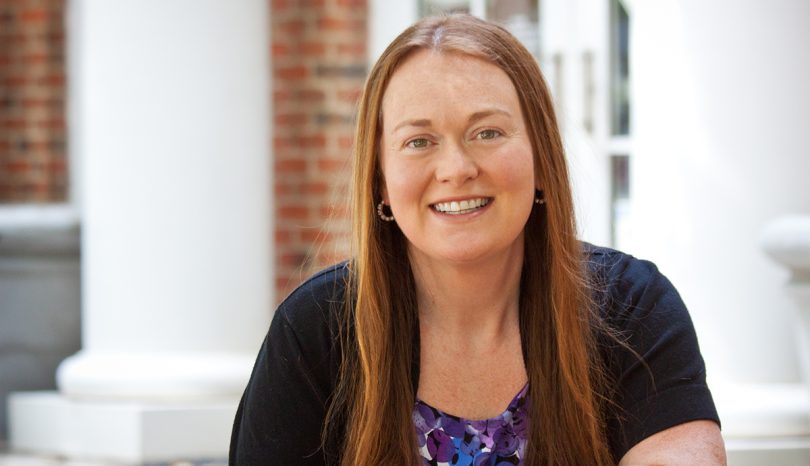 Julie Byrne believes that pursuing a broad, liberal arts education can help students discover what moves them.
"I did," she said. "And it was taxes."
The 2006 Transylvania University graduate admits taxation isn't something most of us find all that interesting, but Byrne, an accounting and political science double major, knows how to make it engaging. It's her job.
Recently promoted to associate director for global tax policy at Ernst & Young, she observes and analyzes global tax debates and developments, creating various publications to help businesses understand what's happening around the world. She works with EY leaders in over 80 countries to find the best ways to not just convey the information but to get people to care about it.
Byrne, who lives in Charlotte, North Carolina, and has an office in Washington, D.C., draws much from her Transylvania education in her job. That kind of broad-based learning gives students the skills to think critically and develop into good writers and, in general, communicators who drill down on what it is they want their audiences to take away — without boring them. "I think that's pure liberal arts," she said.
Ernst & Young recruited Byrne after she earned a master's in taxation from the University of Denver. She worked as an accountant for a while but knew she wanted to do something involving politics and government policy. She eventually moved to Washington in a global thought leadership role, writing and editing articles and presentations — anything to help people understand the world around them and why it matters from a tax perspective.
In her current job, she spearheaded a Green Tax Tracker for businesses that care about the environment to stay up-to-date on issues like government sustainability incentives and carbon pricing. Working with teams in 40 countries, the initiative helps clients realize that doing taxes isn't just about fulfilling obligations — "it can be a way to do good (and sometimes increase your revenue too)," she said.
Byrne knew she wanted to somehow work in politics from the get-go; she was the rare high schooler who wanted to be a lobbyist. She came to Transylvania with the idea of going on to law school — it was a general education math class touching on taxation that helped her find her path. Now she encourages students to explore a variety of subjects when they start college, so they too might have that "ah-ha!" moment.
"I love what I do because it's something I'm passionate about," Byrne said. "It makes life a lot easier."
As she has shown, tax rates and number crunching can be made meaningful, especially by those with an interdisciplinary background. "The accounting world needs more liberal arts degrees," she said.