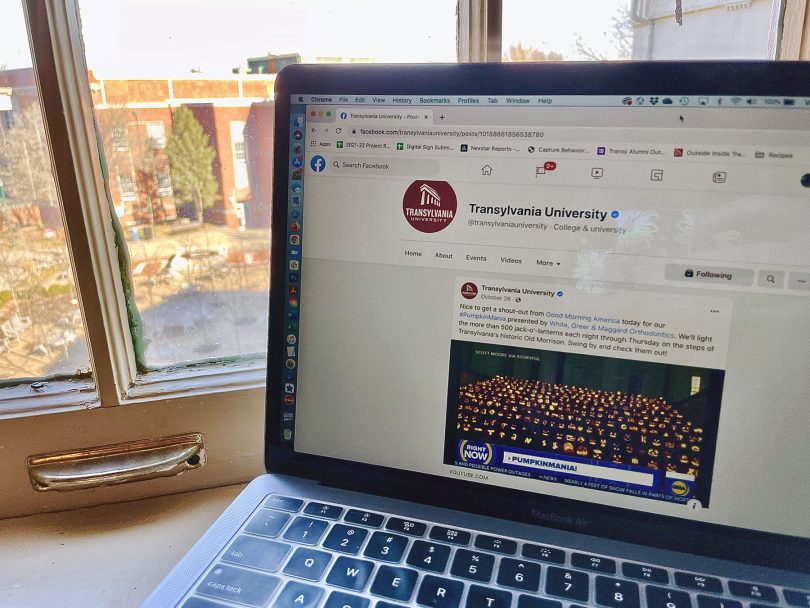 In 2021, posts from Transylvania on Facebook, Instagram, Twitter and Linked In reached 2.86 million users. What did that social media audience like most? According to the numbers, the return of campus traditions, student and alumni profiles and Pioneers athletics are some of your favorite things to see.
Below are the top 10 social media posts based on the number of users reached across all our channels. Keep connecting with us on social and sharing your favorite posts with your friends and colleagues to help us determine next year's top 10.
10
While graduation ceremonies happened three times in 2021 – once for the Class of 2020 and two ceremonies for the Class of 2021 – our social media audience enjoyed this video from the 2021 ceremonies.
9
A new partnership between Transy and Appalachian Regional Healthcare got some attention in October.
8
Congratulations and welcome to the newest Pioneer Hall of Fame inductees.
7
This alumna used what she learned at Transy to land a job in the major leagues.
6
A Jeopardy! contestant and Transy alumnus caught users' attention.
5
Twelve points down and :57 seconds left to go, the Transy men's basketball team gave all of us a come-from-behind buzzer-beater to remember. Read more about the game on TransySports.com.
4
Transylvania honored one of its own with moments of silence early this fall.
3
We welcomed a new class to the Transy family, the Class of 2025.
2
A new student art gallery in the William T. Young Campus Center made its debut.
1
A little national attention for the return of Transy's PumpkinMania brought the likes, comments and shares from viewers, making this snippet from Good Morning America the top social post of the year!