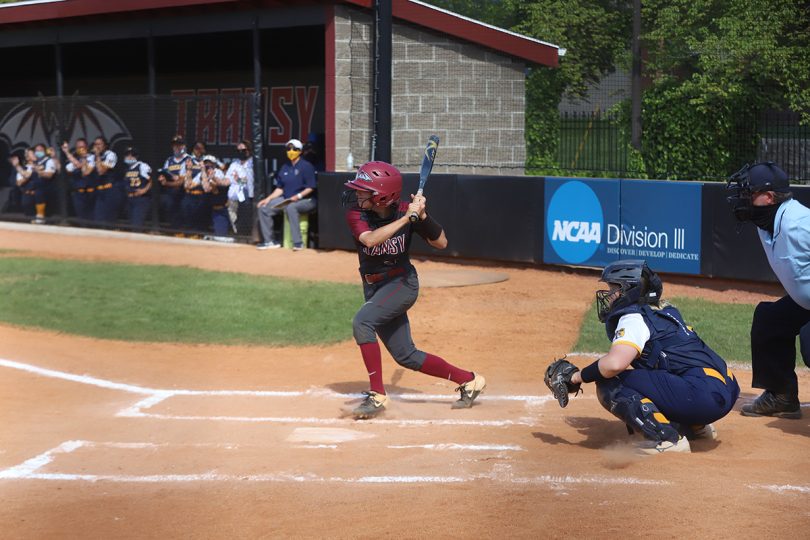 This article is part of an ongoing 1780 blog series highlighting Transylvania's student-athletes, past and present.
Transylvania graduate Lexi Childers '21, a transfer student from Herrin, Illinois, helped the softball team set records and make it to the HCAC regular season championship. Before graduating and pursuing her teaching career, her dual performance on the field and in the classroom was recognized by CoSIDA's Academic All-District honors, HCAC All-Academic Team honors and induction into Chi Alpha Sigma, the National Honor Society for student-athletes. With the highest grade-point average among Transy's student-athletes (3.917), she received the 2021 RAFY Awards' George Stopp Academic Achievement Award.
Why Transy:
I knew instantly that Transylvania was where I wanted to finish my academic and athletic career. It was the combination of the community feeling while going on my tour, getting to meet with coach Hendrickson and talking with professor Wheeler about the education program that made me realize just how sure I was about coming to Transy.
The softball escape:
In the moments that I was able to play alongside my teammates, I could worry about only softball for a couple of hours and get away from any other stressors that I had at the time. COVID really affected that aspect of the game for me, because while I was able to practice on my own in quarantine, playing and working hard for a common goal with my teammates each day was what always helped me escape from reality.
Setting the bar to succeed during COVID:
I came into the 2020-21 school year knowing just how difficult everything had the potential to be due to COVID. I knew just how hard everyone on campus was working in order to be able to have classes (even over Zoom) and to be able to have a softball season, so I also wanted to work hard to make it worth it for everyone.
Coping with cancellation:
It was absolutely heartbreaking when I found out that my junior season was going to be canceled. I was devastated. It was going to be my first season at Transy, and we had been off to a great start. I was really excited to see what the season had in store for all of us. Of course there were limitations due to COVID, but I did all that I could to prepare for the next season I was going to have. Making sure that I would be 110% ready for whenever I was going to be able to play with my team again is how I coped with it all.
Lessons learned:
I have learned so much. One of the most important lessons, though, is how to keep going in the face of adversity. Even when it is easier to just quit, I have learned how much more rewarding it is to push through. I will always take this lesson with me in everything I do, especially as a teacher.
On becoming a teacher:
I have always wanted to be a teacher. I want to help foster young minds and create a classroom that is inclusive to all students. One of the reasons I want to be a teacher is to make sure all students have equal opportunity to learn and succeed in the classroom.