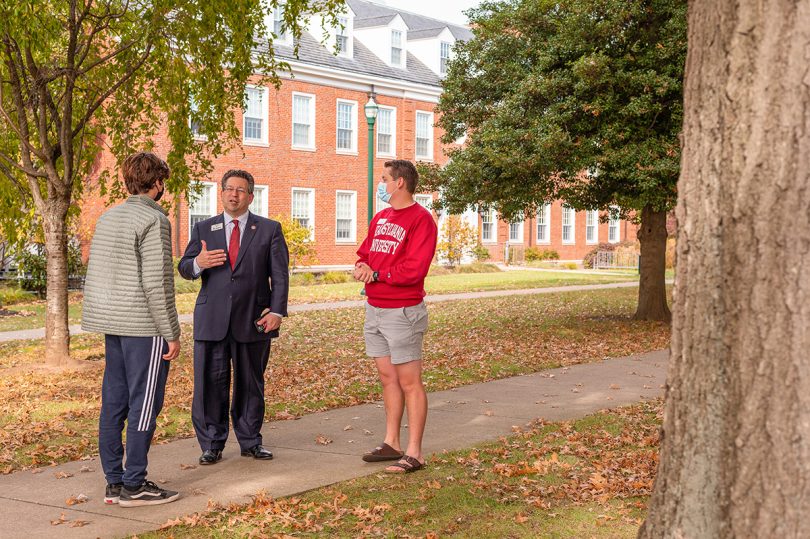 This article appears in the most recent issue of Transylvania's Third & Broadway magazine.
For institutions of higher learning, every presidential transition is a pivotal moment. Universities choose leaders based on their needs at the time, whether it's a steady hand, a soaring vision or a stabilizing presence.
When Brien Lewis was selected as Transylvania's 28th president in January 2020, he could not have known that he would have to be all three and more when he came to Lexington that summer in the midst of a raging pandemic, a country reckoning with its racial history and a campus that hadn't seen most of its faculty, staff and students in months.
"It was a little surreal," Lewis says of that period of transition — no doubt an understated sentiment today with the benefit of a year's worth of hindsight.
Or maybe not. Transy's president wears a perpetual smile that complements his jovial demeanor; he's quick with a laugh and even quicker to strike up conversations with colleagues and strangers alike. You'll often find him on campus stopping to speak with prospective students and families on their tours, and he loves to tell the story of Transy, of what this school can do for young people looking to find their place in the world. In talking with him, his optimism about Transy and its future belies very real challenges that face higher education in the coming years, but you get the sense that he truly believes the university is well situated to handle any adversity.
As he began his tenure in a distanced world, he took to videoconferencing to reach his goal of meeting with as many students and employees as possible, and he had the added benefit of being able to speak with alumni from all over the world. Those meetings, especially with the alumni, were kind of how he became acclimated with the place, getting a sense of its values and shared language.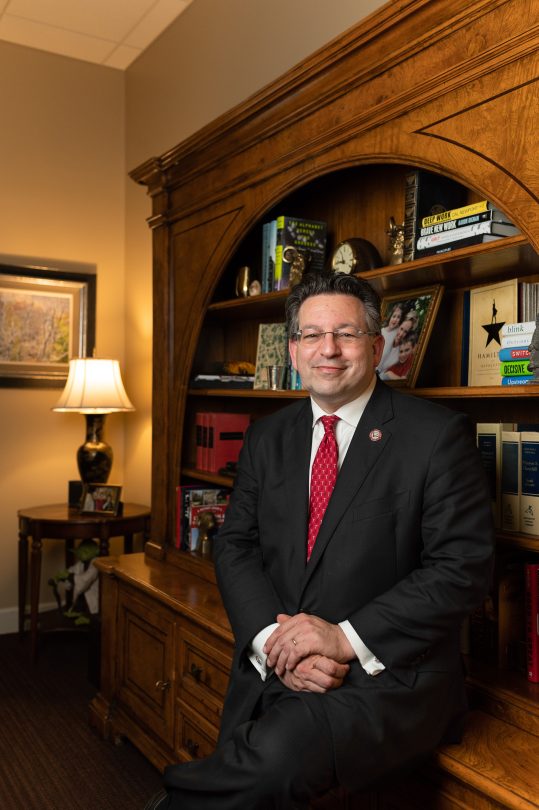 "Whether they were here five years ago or 50, they all spoke to how deeply connected they were," Lewis says. "They talked about their relationships with the faculty and their peers and how those persist beyond graduation. So many people said, 'My closest friends are the friends that I made at Transy.' It was interesting to hear just how consistent that story is."
That sense of belonging has been put to the test over the past year and a half, as restrictions on all facets of campus life, from classes to dining to engagement opportunities, forced the Transy community to wrestle with what higher learning might look like in the future and examine the ways a deep liberal arts training is delivered. It foreshadowed the coming realities of shrinking traditional enrollment numbers, of advanced technology requirements and of an education tailor-made to suit the needs of an evolving generation of students.
Early signs show solid progress toward meeting those challenges. Transy has navigated the pandemic with minimal outbreaks on campus. It buckled down financially and, even as a school that relies heavily on tuition income, never had to resort to layoffs or furloughs. New student enrollment numbers actually rose 13% in a time when those same numbers dropped significantly around the country. And professors creatively adapted to online and hybrid learning, working closely with Information Technology to maximize the tools they had at their disposal.
"The trend lines were already there for higher education before COVID came along," Lewis says. "But COVID became the accelerant to a lot of those. I've been phenomenally impressed with what we've been able to do. We've benefited by using these tools like Zoom and Canvas, and I think there are some faculty who have really surprised themselves in discovering the elements within those that can be very beneficial to enhancing their courses and their pedagogies. We're going to have to continue to adapt to the flexibility that people are going to be expecting."
Flexibility, personalization, creativity — those are all key components of where Lewis envisions Transylvania heading as it looks to build on the school's momentum coming out of pandemic times and into a drastically new future. Under his guidance, Transy spent the past year building a Strategic Focus initiative that seeks to build on its current strengths and open doors to new opportunities for its students. He talks a lot about how today's graduates will be entering the workforce during what's been called the "Conceptual Age," a time when creativity, communication and adaptability are the most important skills because they cannot be outsourced or automated. The typical college student today will hold not just multiple jobs, but multiple careers throughout their lives, as a rapidly evolving world requires pivots much like COVID did.
The Strategic Focus — Pursuing a BOLD PATH for Transylvania University — seeks to use a solid foundation in the liberal arts to offer academic and co-curricular opportunities to prepare the university and its students for that Conceptual Age. Its tenets include practical goals such as growing enrollment to 1,150 students and encouraging alumni and partners to fund critical programs, as well as philosophical aspirations including a deepened commitment to social responsibility and preparing students to be leaders of the future. The plan is a three-year approach that sets benchmarks through 2024, setting Transylvania up for a time in which the number of college-age students will decline by around 15%, and universities will have to make a strong case for their value and relevance as they compete for them.
"We're heading toward a demographic cliff in the next few years, and we need to get more students in our pipeline," Lewis says. "We need to add some new academic and co-curricular programs that will attract students who aren't currently looking at us. They won't be things that are outside our nature and our character, but rather programs that build on our existing strengths."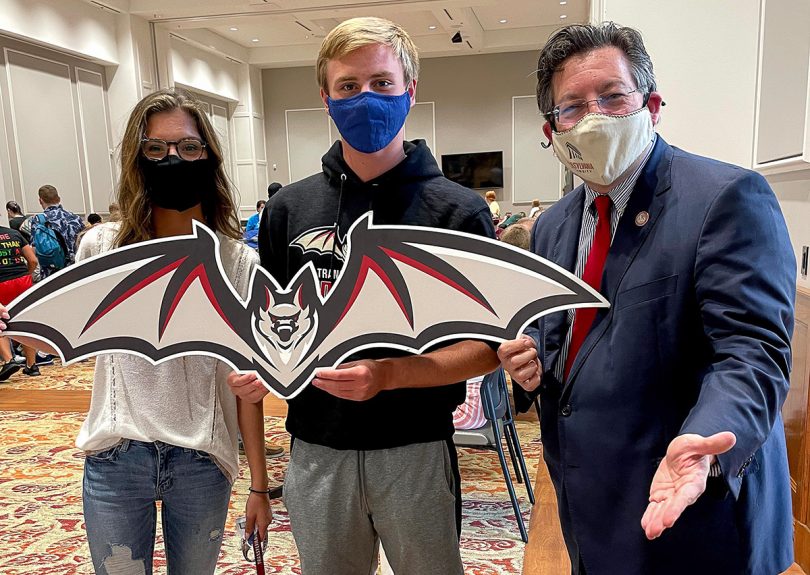 Examples of those types of programs run the gamut from esports to enhanced academic support services to campus engagement opportunities where students can engage their interests while building leadership skills and making lifelong friends. Lewis wants to see more funding for scholarships on campus and to study abroad, as well as alumni stepping up to offer paid internships for students who would normally have to forgo unpaid placements in order to work a traditional summer job and make money.
One co-curricular program that has generated significant excitement on campus is the upcoming Center for Entrepreneurship, which will provide hands-on, experiential learning opportunities for students to explore entrepreneurial career paths.
"The pandemic has led people of all ages to think differently about the way they work, why they work and what they do as work moving forward," says Steve Angelucci, assistant to the president for special projects, who is leading the group starting the program. "We fully intend to learn how to integrate this program into the scope of the liberal arts and our campus mission."
It's not hard to see how programs like that leverage exactly what Transy does well, and it goes a long way toward relaying the university's strengths to prospective students and their families. Despite the challenges of his first year at the helm, Lewis has proven himself to be a remarkably capable champion of that message. He's quickly assumed the delicate balance of hands-on and empowering, of practical and aspirational. He's developed a very real fondness for the university and the greater Lexington community. Ask him what this 240-year-old institution still has to offer in 2021, and he doesn't hesitate:
"To be able to offer our students a small, personal environment where they can safely explore ideas and develop themselves, paired with our location in the heart of the business, legal, arts and medical centers of Lexington — that's an exceptional opportunity," he says. "We need to find the right balance of experiential education and traditional classroom learning as we put all that together.
"We want to get the story out there to people — not just locally, but regionally and nationally — so that we are on the tip of people's tongues when they say, 'If you want to go to a small liberal arts institution and live in a big city, let me tell you about the place that's got the best of both worlds.'"