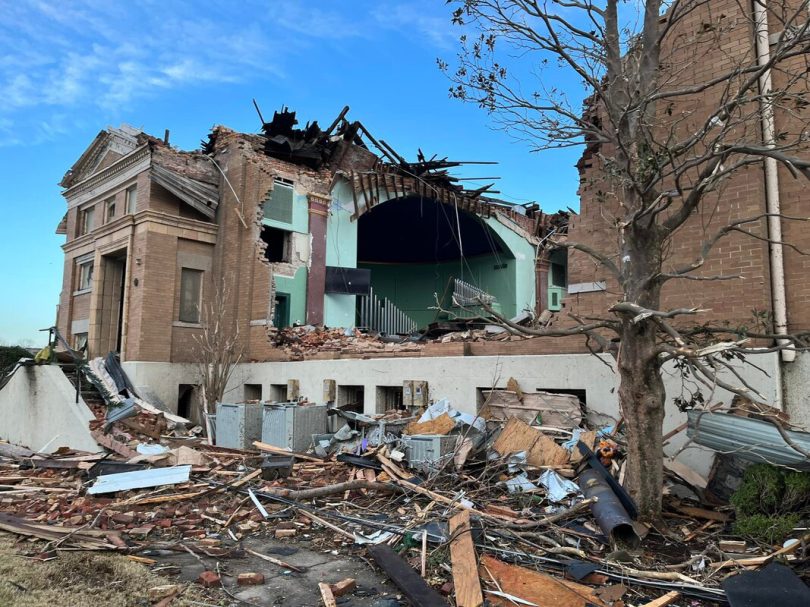 The Christian Church (Disciples of Christ), which Transylvania University is affiliated with, is collecting donations to help those impacted by Friday night's historic tornado outbreak.
The storms killed at least 90 people — including more than 70 in western Kentucky — and caused major damage in six states.
"We have felt this tragedy reverberate throughout the state and are thinking of our Pioneer family near and far, in particular those who have been affected by the tornado," said the Rev. Emily Miller, Transylvania's director of spirituality and religious life.
Disciples of Christ is raising money for relief efforts through the Week of Compassion mission.
"Week of Compassion assists real-time efforts that support communities on the ground with their relief efforts and is an organization that will continue to be present for Mayfield and the surrounding areas in the coming weeks and months," Miller added. "We will continue to listen for ways that our community can support one another during this time."
Kentucky Gov. Andy Beshear also has set up a relief fund to raise donations and has declared a state of emergency.
On Saturday morning, as we began to learn about the impact of the tornadoes, Transylvania President Brien Lewis said: "Our hearts go out to the communities in western Kentucky and throughout the region — including our students and their families in the affected areas — who are dealing with unimaginable loss from last night's tornadoes. Please keep them in your thoughts and prayers as we learn more about this tragedy and how we can help in their time of need."
Natasa Pajic Mongiardo '96, director of alumni relations, said: "If the last two years have taught us anything, it's that when we Pioneers stick together, we persevere. It's with that in mind that our office sent an email to all Transy alumni Saturday morning, expressing our care for those alumni, families and friends impacted by the storms and encouraging everyone to reach out to classmates and friends."
Transylvania's affiliation with the Disciples of Christ dates back to 1865.